Induction Cap Sealer targets pharmaceutical industry.
Press Release Summary: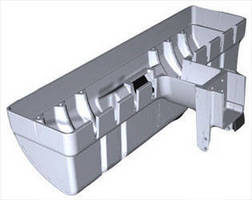 Responsible for creating foil seal found beneath cap of many pharmaceuticals, Induction Cap Sealer requires no active cooling. System utilizes controlled heat management and incorporates heat pipes to counteract large amounts of heat that is inherently produced by induction heat equipment.
---
Original Press Release:

Adept Mechanical Develops Induction Cap Sealer



Adept Mechanical Engineering Inc. provides complete design engineering services consisting of computer science, electrical, industrial & mechanical engineering. New machine & product design & engineering & improvements. Assembly layout, detail part design, problem solving & analysis, solid modeling for prototype or tooling. Structural & heat transfer FEA. Projects range from aesthetics to small & large mechanisms, from hand-held consumer products to heavy industrial machinery. All aspects of machine design, including gears, crankshafts, cams, springs, ball screws & enclosures. Fully detailed machines developed in Pro/Engineer. Classical & finite element structural analysis performed with Algor's finite element analysis software. Adept is proud to announce the development and execution of Induction Cap Sealer for the pharmaceutical industry.

An Industry leader in Induction heat Equipment Contracted Adept to Develop and Design their next Generation Induction Cap Sealer. The machine was responsible for creating the foil seal found beneath the cap of many pharmaceuticals. Due to the Machines unique environment no active cooling was allowed. Induction Heat equipment inherently produce a large amount of heat. Through the application of controlled heat management and the incorporation of heat pipes, Several Thousand of these machines are in operation throughout the world today.

ADEPT capitalizes on the latest in Computer Aided Design, (CAD) Technology. All designs are developed in Pro/ENGINEER parametric solid modeling software with Structural, Vibration and Heat Transfer analysis performed in ALGOR Finite Element Analysis (FEA) software. Mastery of these tools grants ADEPT the ability to create a Virtual Prototype of your Machine or Product. Since your design is prepared in Pro/ENGINEER it permits you to realize all the advantages of Today's Technology. Whether Rapid prototyping or complex machining, ADEPT's databases are fit for the task. Contact us today for more information, Toll Free: 877-77-ADEPT, (877-772-3378) or via email, mhayduk@adeptengineering.com or visit our website at, www.adeptengineering.com

More from Adhesives & Sealants