Indiana Limestone Company's New Small Format and Plank Paving Design Solutions Allow for Easy Transformations
Press Release Summary: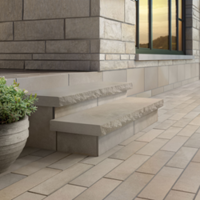 Small format and plank pavers offer a standardized solution to paving outdoor areas. The small format pavers are ideal for smaller spaces, as they provide dimensional flagging at half the size. These pavers are versatile and can be combined with larger pavers to create new patterns.  Plank pavers are offered in three sizes and two thicknesses for versatility in designing an outdoor area. Both small format and plank pavers are available in Indiana Limestone's complete line of colors.
---
Original Press Release:
Two New Products from Indiana Limestone Company Enhance Paving Design Solutions in its Urban Hardscapes Line
Small format paving and plank paving enable new possibilities using standardized landscape products.
BLOOMINGTON, IND. (PRWEB) MARCH 28, 2018
A pair of new products in the Urban Hardscapes line from Indiana Limestone Company give designers and landscape architects new tools for transforming outdoor environments. Small format paving and plank paving deliver standardized landscape solutions that previously could only have been achieved with expensive, custom-manufactured stone elements.
Small format paving provides dimensional flagging at half the size of the company's current scale. The product is a better fit for smaller spaces. It can be combined with larger format pavers (as well as other smaller sizes) to produce entirely new patterns, introducing a welcome degree of versatility to the process. Available in the company's popular full color blend, it coordinates perfectly with the entire Urban Hardscapes line.
Similarly, plank paving enables the use of standardized products to create high-trend plank-based designs. It's available in three sizes that enhance designability, and in two thicknesses that accommodate various installations requirements. As with small format paving, its availability in full color blend enables perfect integration with other Urban Hardscapes offerings.
"We recently started up some new equipment that allows us to make our paving portfolio much more versatile," said Ben Wojcikiewicz, Director of Product Development and Brand Marketing at Indiana Limestone. "Other manufacturers of Indiana limestone finished goods will be challenged to fabricate these products in a cost-effective manner. We're excited to be the first to bring these innovations to market in our nation's building stone. These products are also available in our new Bush Hammer, Sandblast or Abrasive and Wire Brush finishes which can add additional textural depth to any design and can help both landscape designers and installers differentiate their projects in the market."
Find more on Indiana Limestone Company and its products at http://www.indianalimestonecompany.com.
About Indiana Limestone Company 
Indiana Limestone Company is unmatched as the premier supplier of Indiana limestone in a range of beautiful and lasting building products. Founded in 1926 (with predecessor firms that had been quarrying limestone since the mid-1800s), Indiana Limestone Company today remains the provider of choice for this internationally renowned natural stone. Throughout an illustrious history in which its stone has made such iconic structures as the Empire State Building, National Cathedral, and the Pentagon, Indiana Limestone Company has reliably provided the highest quality products and services carefully tailored to the needs of the market with an environmental, natural focus.