Indexing Table Packages deliver plug-and-play functionality.
Press Release Summary: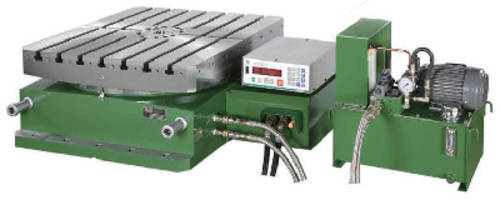 Plug-in and Use Heavy Duty, Precision Indexing Table Packages are self-contained assemblies that include standard ITI/Exact, Heavy Duty ~ Hirth Coupling Indexing Table with non-lifting table top, mini hydraulic power pack, and single-axis DNS sequence control unit. Suited for use on machines that need indexing table for occasional use, solutions promote job shop flexibility. Tables are suited for milling, drilling, grinding, boring, measuring, and inspection applications.
---
Original Press Release:

Economically Priced "Plug-in and Use" Heavy Duty, Precision Indexing Table Packages



Indexing Technologies Inc. (I T I) of Ramsey NJ has announced the introduction of it's economically priced "Plug-in and Use" Heavy Duty, Precision Indexing Table Packages.

These packages are self contained assemblies that include a standard ITI/Exact, Heavy Duty ~ Hirth Coupling Indexing Table with a non-lifting table top, a mini hydraulic power pack together with a single axis DNS sequence control unit. These packages are ideal for use on machines that need an Indexing Table for occasional use and in Job Shops where flexibility is important, or wherever an easy to install Indexing Table is needed.

As these are totally self contained packages, they can be quickly mounted and removed from any machine tool or used between varieties of machines. The tables are well suited for most milling, drilling, grinding, boring and even measuring and inspection applications. Moving the tables is easy and safe as all electrical cables and hydraulic hoses are fitted with quick disconnects and the tables have integral lifting bars.

The Indexing Tables are from the ITI/Exact standard series HC-H and are available in 3 sizes, 18" 24" and 32" square with "T" slots, alignment slots and a precision central pilot bore for easily and accurately mounting piece parts or fixtures.

The Indexing Tables are driven in either direction via an included servo motor, although the final true position is achieved by a precision 3-piece Hirth Coupling with either 72 or 360 teeth depending upon your needs, all with a standard accuracy of +/- 3 seconds of arc. The Hirth Coupling not only provides the table accuracy but also its repeatability and rigidity for heavy machining operations.

The servo driver and all of the controls are housed in a sealed enclosure, the interconnecting cables between the controller, hydraulic unit and the table is industrial grade with a steel safety outer sheath to protect from chaffing. The length of the cables and hoses can be determined for each installation.

The table command signals on the DNS controller are simple and easy to operate via manual data input or if preferred for more permanent installations, the table functions can be initiated and monitored via the host machine's CNC control.

The ITI/Exact, Indexing Table packages are a cost effective way to gain greater flexibility and utility from your machines.

For additional information on these and other top quality productivity boosting machine tool components and accessories from Indexing Technologies Inc.
Contact us at 201-934-6333 or visit our website: indexingtechnologies,com

More from Software