Indexible Multi-tool achieves any angle setting on workpiece.
Press Release Summary: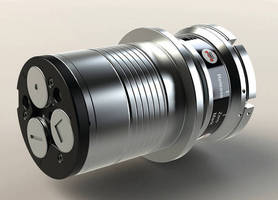 Ultra® IMT(TM) fully indexable multitool is available in 3-station version, which can punch up to 6 mm material at up to 142 kN, and 8-station model that can punch 6 mm material at up to 62 kN. Both assemble/disassemble without tools and include zero mark to indicate start/home position and station ID window to view active station. Ergonomic systems are ported for lubrication, and feature spiral grooves in OD of holder to reduce friction between machine and holder.
---
Original Press Release:

New Ultra® IMT(TM) Fully Indexable Multi Tool (patent pending) Introduced by Mate Precision Tooling: The Ideal Multi Tool. Delivered.(TM)



Anoka, Minnesota: From the leaders in multi tool technology, get even more productivity from thick turret punch presses* using Mate's new patent pending Ultra® IMT(TM) fully indexable multi tool. Unlike standard multi tools, which only have one angle setting, fully indexable multi tools can achieve any angle setting on the workpiece.

Mate offers two versions of the Ultra IMT fully indexable multi tool:

o 3-Station, which uses standard Ultra 1-1/4" B-Station punches and strippers and thick
turret B-Station dies. It can punch up to 6 mm material with maximum tonnage of 16 tons
(142 kN).

o 8-Station, which uses standard Ultra ½" A-Station punches and strippers, and thick turret A-Station dies. It can punch up to 6 mm material with maximum tonnage of 7 tons (62 kN).

Customer Driven Design

Mate conducted extensive customer research before embarking on the design of Ultra IMT. "We wanted to provide our customers with the opportunity to define their vision of the ideal multi tool," said John Galich, Mate marketing manager. "We knew there can be some trepidation with using multi tools. Our research not only confirmed our perceptions, but it also provided us with some interesting insights that led to the design of other customer-centric features." The advantages and benefits of Mate's design include:

o Ultra IMT is incredibly easy to use. Assembly and disassembly is very simple. No tools are required for punch, striker and stripper retention/removal.

o Ultra IMT is designed to use Mate's Ultra® punches, strippers and Slug Free® dies,
eliminating the need for specialized tooling inventory. Ultra punches provide exceptional life between regrinds. Ultra strippers have recess for added 0.118 inch (3.00 mm) punch grind life, while the Slug Free dies eliminate slug pulling and increase piece part quality.

o Ultra IMT features a drop-in quick tool change design that allows for fast tool changes reducing machine downtime while increasing productivity.

o Ultra IMT's Integral punch length adjustment feature ensures optimal punching
performance and efficient slug discharge across a wide material range.

o Identification of the active station is easy because Ultra IMT has a clearly viewable "Zero Mark" that indicates the start/home position and a station ID window to quickly see the active station, both to assist in reducing the chance for error.

o Ultra IMT's ergonomic design makes it easy to wrap your hands around the holder. Plus
you can also use a T-Handle to assist in lifting the holder.

o With its variable stripping force options for heavy duty and light duty applications, you can adjust Ultra IMT's downward force to reduce sheetmarking in thin materials or aluminum.**

o The innovative Ultra IMT holder is designed so that each tool is individually activated. This means that inactive punches are prevented from moving, protecting part surfaces from unwanted marks.

o Ultra IMT is fully ported for lubrication, which is delivered via the punch ram through the central shaft over all moving surfaces within the punch holder assembly. In addition, external spiral grooves in the outside diameter of the holder reduce friction between the machine and holder, especially during high speed nibbling operations.

"Mate believes we delivered on the customer's vision of an ideal multi tool," reports
John Galich. "Increasing turret press output with the addition of a Mate Ultra IMT is an excellent way to increase machine flexibility and productivity in today's challenging economy. With Ultra IMT, Mate gives fabricators yet another option for maximizing machine output and profitability while ensuring highest quality sheet metal parts."

For more information on Mate's Ultra Indexable Multi Tools, call for FREE brochure in
USA and Canada, 1-800-328-4492. Outside USA and Canada, call 1-763-421-0230.

See at mate.com/ultramultitools


* Requires compatibility with machine ram and programming software. Contact punch press
machine supplier for details.

** Do not exceed recommended tonnage. Consult product instructions for details.

Mate Precision Tooling

1295 Lund Boulevard

Anoka, Minnesota 55303

1-800-328-4492 Fax: 1-800-541-0285

Website: www.mate.com

Email: marketing@mate.com

More from Sensors, Monitors & Transducers