Incremental Encoders deliver up to 65,536 ppr.
Press Release Summary: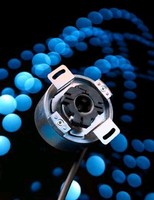 Packaged in 60 mm housing with nickel code disc, DFS 60 Series is suited for heavy-duty industrial applications. Hollow shaft clamping facilitates mounting, minimizes run out problems with collets, and isolates electricity between motor shaft and encoder. Housed in spring steel, integrated stator coupling allows error free angle measurement and lets users adjust shaft and axial movement of motor shaft. Encoders are IP65-rated and available with TTL or HTL interface.
---
Original Press Release:

New Incremental Encoders Deliver Up To 65,536 ppr for Maximum Precision in Heavy Duty Industrial Applications



Unique nickel code disc delivers increased robustness and higher temperature tolerance when compared with conventional optical encoders

DAYTON, OH - SICK STEGMANN, INC. introduces DFS 60 Incremental Encoders. These hollow shaft encoders deliver from 1 to 65,536 ppr in an industry-standard 60mm housing - truly unrivaled resolution when compared with any encoder in its class. Typical 60mm encoders offer 1024 ppr, or up to 8192 ppr.

The DFS 60 is built on SICK STEGMANN's new "F" Technology, the heart of which is a unique nickel code disc that provides significantly more robust operation and tolerance to higher temperatures than conventional optical encoders that typically have a glass or plastic rotating disc. This makes them an ideal solution in heavy-duty industrial applications such as printing, textile, woodworking and packaging machines. DFS 60 encoders are IP65 rated and are available with a TTL or HTL interface.

"Machine builders who utilize the DFS 60 will benefit from excellent concentricity and exceptional robustness due to a large distance between the ball bearings that support the encoder shaft. These incremental encoders also provide electric isolation between the motor shaft and encoder to substantially increase interference immunity and overall reliability when compared with most other optical encoders," says Scott Hewitt, President, SICK STEGMANN, INC.

Hollow shaft clamping provides easy mounting, reduces run out problems with collets and isolates electricity between the motor shaft and encoder. A radial/axial cable outlet reduces installation depth by up to 31% compared with similar encoder models, and allows a single encoder type to be used for various applications. An integrated stator coupling is housed in spring steel to increase bearing life, allow error free angle measurement, and allow users to adjust the shaft and axial movement of the motor shaft. A 30mm bearing distance results in maximized bearing life, very good run out, and minimum encoder vibration.

SICK STEGMANN, INC. is a wholly owned subsidiary of SICK AG in Waldkirch, Germany. SICK|STEGMANN is a world leader in the design and manufacture of incremental, absolute and linear encoders, as well as motor feedback systems.

For more information contact: SICK STEGMANN, INC., 7496 Webster Street, Dayton, OH 45414; (800) 811-9110; (937) 454-1956; fax: (937) 454-1955; email: sales@stegmann.com; or visit www.stegmann.com.

Related