In-Line Wire Connector is designed for pre-fab operations.
Press Release Summary: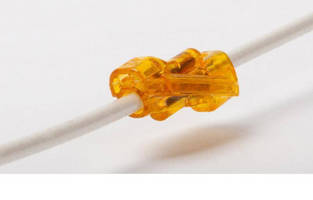 Providing crimp-free, push-in butt splice, SpliceLine(TM) has 2 ports to support solid- and stranded-wires ranging from 12-20 and 12-16 AWG, respectively. It is precision-molded from transparent polycarbonate, permitting visual inspection of connections. Due to ultra-slim profile, unit can be used to lengthen wires in tight spaces, while multiple connectors can simultaneously pass through ½ in. knockouts found in most electrical boxes. Available quantities are 10, 100, 300, or 2,500.
---
Original Press Release:

New SpliceLine(TM) in-Line Connector Optimal for Butt Splice Applications and Pre-Fab Operations



Crimp-free, Push-in Butt Splice Saves Time and Money

SYCAMORE, IL,-- IDEAL INDUSTRIES, INC., a global leader in tools and supplies for the professional electrician, announces the launch of its new SpliceLine(TM) in-line wire connector, an innovative alternative to traditional butt splices that does not require time-consuming crimping, soldering or heat shrinking to create secure end-to-end connections.

SpliceLine's two ports support a wide range of solid and stranded wires (12-20 AWG solid, 12-16 AWG stranded), allowing a single SpliceLine(TM) connector to cover the same wire range as three standard butt splice sizes. This results in reduced inventory needs for distributors and more space inside the electrician's tool bag.

Further distinguishing itself from traditional butt splices, SpliceLine(TM)'s quick push-in technology allows the contractor to make end-to-end connections up to 2X faster. In addition, SpliceLine(TM) is precision-molded from a transparent polycarbonate that permits visual inspection of connections. Thanks to the shell's ultra-slim profile, multiple connectors can easily and simultaneously pass through the ½" knockouts found in most electrical boxes.

According to Nolan Bello, Sr. Product Manager for IDEAL, SpliceLine(TM) connectors make excellent economic sense to pre-fabrication operations: "In today's market, pre-fab shops must take advantage of every opportunity to maximize production speed. SpliceLine(TM) connectors install effortlessly on a wide range of wires with push-in ease. Plus, standardizing on SpliceLine(TM) will help pre-fab shops reduce design complexity, simplify purchasing and delivery logistics, and reduce overall costs."

Another application for the SpliceLine(TM) is to lengthen wires that are physically short in tight spaces. Electricians are often confronted with an existing wire that has been cut too short by the previous contractor to safely install a receptacle, light switch or lighting fixture. Also, in historical homes, a wire may have deteriorated or broken with age, requiring replacement. In these situations where a standard WireNut® style connector is too large, a SpliceLine(TM) connector can be safely used to splice the wire and make it possible to install additional wire to the device.

SpliceLine(TM) connectors are available in qualities of 10, 100, 300 or 2,500 and are manufactured by IDEAL in the U.S.A.

For more information and free samples, please visit idealindustries.com or call 800.435.0705. Follow IDEAL on Twitter and on Facebook.

ABOUT IDEAL INDUSTRIES, INC.

IDEAL INDUSTRIES, INC. has been serving the electrical industry since 1916. IDEAL is one of the world's leading manufacturers of professional quality tools and supplies serving installation professionals in the construction, maintenance, data communications and original equipment manufacturing industries.

Ideal Industries, Inc.

Becker Place

Sycamore IL 60178

More from Laboratory and Research Supplies and Equipment