In-Line Heater reduces TPO in beer-bottling lines.
Press Release Summary: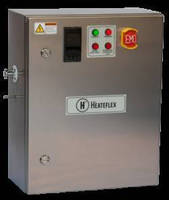 Shown to reduce Total Package Oxygen in beer bottle from 70 ppm to 30 ppm, Gambrinus helps maximize shelf life while optimizing quality and flavor consistency. Stainless steel in-line heater injects very small and precise amount of filtered water into each beer bottle to induce correct foam characteristics and displace oxygen. Constructed using ASME-certified pressure vessel, Gambrinus employs patented sanitary fitting between heating element cap and housing to inhibit bacteria growth.
---
Original Press Release:

Heateflex Introduces GambrinusT TPO Reduction Product for Beer-Bottling Lines



Customer-Verified Total Package Oxygen Reduced from 70 PPM to 30 PPM in Pilot Commercial Installation



ARCADIA, Calif.-Heateflex Corporation, a global leader in high-purity industrial heating systems, today introduced a new product, Gambrinus, designed to reduce Total Package Oxygen (TPO) in beer-bottling lines. The initial Gambrinus unit has been installed and tested in a high-volume commercial brewery and bottling plant in the Southeast region of the United States, and has been shown to reduce the TPO in a beer bottle from 70 parts per million (PPM) to 30 PPM, increasing the shelf life of the beer and improving its quality and flavor consistency.



As a result of the bottling process in commercial breweries, residual oxygen remains in the top of the bottle after filling.This results in oxidation that reduces the shelf life of the product as well as its flavor and quality. Various approaches have been tried by the brewing industry to reduce TPO, including the addition of oxygen-scavenging enzymes or ascorbic acid to the bottle, and even mechanical approaches such as hitting the bottle with a hammer to increase foaming and displace oxygen. Heateflex, though, has developed a superior alternative for TPO reduction.



The Gambrinus product from Heateflex is a stainless steel in-line heater that injects a very small and precise amount of filtered water into each beer bottle to induce correct foam characteristics and displace oxygen. The heater connects to a jetting tip when installed in a beer filling subsystem in the plant's bottling line. The heating process keeps the jetting tip clean because the heat leaves it dry and sterile. Gambrinus is constructed using an ASME-certified pressure vessel (U-stamped), and employs a patented sanitary fitting between the heating element cap and the housing to further inhibit bacteria growth. The system is available with or without acontrol package.



Based on the TPO reduction results achieved in the initial bottling plant installation, additional installations are being planned by the Heateflex brewery customer in its other bottling lines. "Heateflex has recently discovered this new application for our high-purity industrial fluid heaters, a market for which we've been developing products for more than 40 years," said Steve Hausle, Vice President of Sales and Marketing for Heateflex. "The Gambrinus product provides the brewery industry with an all-natural alternative to adding chemicals or biologicals, and reduces TPO in a beer bottle by more than 50 percent."



For more information on Gambrinus, please visit www.heateflex.com/products/gambrinus-total-packaged-oxygen-tpo-reducer/



About Heateflex

Heateflex Corporation specializes in gas and liquid temperature control applications for the semiconductor, life science, food and beverage, and other precision process industries. The company offers a broad range of customizable, high-purity equipment for heating and cooling fluids and gases, including chemical heaters, deionized water heaters, gas heaters, steam heaters and heat exchangers. These applications are able to control temperature with precision and efficiency, and are adaptable to the specific needs of individual customer applications. The company maintains patents in over 17 technologies, and continuously develops next-generation tools for its target industry segments. www.heateflex.com

More from Electrical Equipment & Systems