In-line Capper offers tool-less changeovers in 5 min.
Press Release Summary: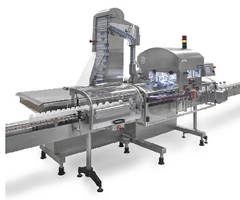 Equipped with servo-driven cap elevator-feeder, which features adjustable cleats and indexes on demand, beltorque® caps up to 300 bottles/min. Two-station system uses 2 pairs of belts to gently rotate and tighten caps. One drive synchronizes linear displacement speed of container with rotating speed of closure, eliminating damage. System handles round, oval, square, and rectangular bottles made of plastic or glass from 2–12 in. in height and from 0.5–7 in. in dia with caps up to 4.75 in. in dia.
---
Original Press Release:

NJM Packaging Introduces New beltorque® High-Speed In-line Capper



NJM Packaging introduces the redesigned beltorque® high-speed capper at Pack Expo Las Vegas/Pharma Expo. Equipped with the new servo-driven, patent-pending cap elevator-feeder, which features adjustable cleats and indexes on demand, NJM has increased the speed of this continuous-motion capper by 50 percent. Now rivaling the high speeds of complex rotary cappers, the in-line beltorque caps up to 300 bottles per minute with simple mechanics, fast changeovers and low maintenance to ease use and reduce the total cost of ownership. Precise torque and gentle handling maximize product quality.



Unlike traditional in-line cappers that use discs or spindles, this two-station capper-torquer uses two pairs of belts to gently rotate and tighten caps. Using patented technology, one drive synchronizes the linear displacement speed of the container with the rotating speed of the closure, even when the cap stops turning. This innovative design maximizes product quality by eliminating damage to the cap knurling and cap finish. It also minimizes slippage to achieve more consistent torque values, which prevents leakers and reduces rework associated with out-of-tolerance rejects. Precision tooling minimizes skewed caps.



The beltorque Capper is ideal for pharmaceuticals, nutraceuticals, cosmetics and personal care products as well as foods and beverages. It handles round, oval, square and rectangular bottles made of plastic or glass from 2 to 12 inches (50 to 305 mm) in height and from 0.5 to 7 inches (12 to 175 mm) in diameter with caps made of plastic or metal that are up to 4.75 inches (120 mm) in diameter.



Beltorque can orient and place challenging flip-top screw caps as well as gear-shaped and rubberized arthritis screw caps and snap-caps (with an optional snap-cap applicator) in addition to traditional caps, without damaging the cap surface. To accommodate a new cap design, NJM can manufacture the new tooling in as little as one week to help speed new products to market.



An optional torque reader measures applied torque and triggers a reject device to remove capped bottles that are under and over the thresholds set for any given cap. This unique feature displays the applied torque of each capped bottle and the history of the last 30 containers on the touchscreen control panel. An optional cap inspection station identifies skewed or missing caps, missing foil and fallen bottles and triggers the reject device. 



To meet the needs of each application, NJM can equip beltorque with a centrifugal bowl for tall caps or its new elevator-feeder for all other caps.



The patent-pending servo-driven elevator-feeder offers a sequential on-demand advance that indexes the elevating conveyor. This smooths and speeds the operation while reducing compressed air use by 50 percent to reduce energy costs. Unlike traditional cap elevator-feeders with fixed cleats, NJM's new elevator-feeder features cleats that adjust to the cap diameter to maximize throughput. By electronically adjusting its cleats to automatically match the cap size via preprogrammed recipes, small caps are elevated more quickly. These innovations enable beltorque to achieve capping speeds of up to 300 bpm.



Beltorque is designed for fast, easy and accurate changeovers, which can be accomplished in less than 5 minutes with no tools required. The transfer from the elevator-feeder to the chute is telescopic so no height adjustments are needed on the chute. The cap pick-up change-part sets the width of the chute like a jig to further simplify changeovers. The height of the machine, which is set during each bottle height change, is electronically displayed on the color touchscreen as a numerical value, which is easier to read than a scale. Torque is controlled with a single control. The standard 5-cubic foot (0.14-cubic meter) cap hopper and the optional 9-cubic foot (0.25-cubic meter) cap hopper feature a lockable clean-out door to quickly and easily remove caps during changeovers.



To reduce maintenance, beltorque's chute and change parts are precision-machined from solid aluminum and stainless steel, which improves durability compared to parts made from sheet metal that warp during setup. Other than the servo-driven elevator-feeder, motors are AC, which reduces maintenance compared to DC motors. The capper features an Allen-Bradley PLC and HMI, heavy-duty construction, a stainless steel cabinet and support frame. Two options exist for the Lexan™ guarding.



NJM can equip beltorque with a spacing wheel, star wheel or feedscrew, as needed. The capper can be mounted on a standard bottle conveyor and features a compact footprint that is only 9 feet (274 cm) in length.



NJM offers a "total solution" approach that includes full validation support and turnkey line integration services to seamlessly combine best-in-class technologies. NJM's world-class aftersales support includes standard and extended warranties, preventative maintenance programs, onsite installation, training and ongoing service.



About NJM Packaging

For 100 years, NJM Packaging has been the proven packaging systems resource, unmatched for the innovation and quality of our equipment manufacturing, solid dose solutions, expertise in labeling, complete line integration, and truly exceptional support.  A one-stop source, NJM Packaging offers expert knowledge and experience from the earliest stages of planning through implementation and production, delivering competitive advantage and greater end-product value to our clients.  Our customers include: pharmaceutical, nutraceutical, food, beverage, chemicals, cosmetic and personal care product manufacturers; as well as contract manufacturers.



Reader Inquiries:

Marla Stallmann

MarlaStallmann@njmpackaging.com

NJM Packaging

www.njmpackaging.com



USA:

56 Etna Road, Lebanon, NH 03766-1403 USA

Tel: (603) 448-0300 • Fax: (603) 448-4810



Canada:

5600 Kieran, Montreal, Québec, Canada H4S 2B5

Tel: (514) 337-6990 • Fax: (514) 335-0801

More from Electrical Equipment & Systems