Improved Solutions for Custom Overmolded Mil-Spec Bulkhead Assemblies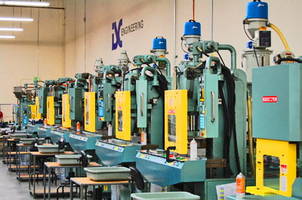 ISC engineering introduces a new line of mold tooling for circular bulkhead connectors including Mil Spec and IP rated solutions. ISC is committed to staying ahead of the curve to support customer requirements by introducing injection molded solutions for ruggedized light weight connectors that will stand up to harsh environments.
With the ever expanding applications and markets for harsh environment products, we are able to team up with our customers to develop a solution accommodating of their stringent requirements.
Overmolding helps eliminates the high cost of mechanical strain reliefs and heat shrink boots with providing the advantage of fully encapsulated contact wire termination point for strain relief and mechanical advantage. The first step is the design of the pre-mold, which is critical to properly mold certain Circular connectors. The pre-mold is an initial injection of compound such as polypropylene over the contacts and exposed conductors which helps provide a structure. After the pre-mold, a final mold incorporates any cosmetic enhancements along with value added strain relief providing improvement to the overall flex life of the assembly. The most important rule is to design the pre-mold and final mold such that the molded wall thickness uniformity minimize any concerns for mold sinks and cosmetic imperfections, resulting in a quality product.
To add further value, ISC has the capability of embedding the latest Printed Circuit Board assemblies into overmolded connectors which allow for greater functionality in a broader range of applications. Partnered with our wide variety of solutions for military standard connectors, our modular tooling library includes molds for most connector shell sizes and strain relief configurations.
To learn more about a custom overmolded solution for you, speak directly to one of our engineers. Mark Davis, (909)203-1121 or email mdavis@iscengineering.com
Kyle Burk, (909)203-1121 or email kburk@iscengineering.com
To view other products and services, visit our website http://www.iscengineering.com/