Impact Wrench has one-piece, magnesium housing.
Press Release Summary: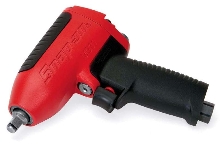 Suited for vehicle technicians, 3/8 in. MG31 aids in removing lug nuts, loosening tie rod ends, and securing other fasteners. Construction incorporates balanced design with slim nose, cushioned trigger, anvil stop lock, and metal reverse and power controls. Weighing 2.9 lb, unit features internal twin hammer mechanism that delivers 300 lb-ft torque at impact. Unit is powered by low-vibration, reverse bias motor with 8-vane rotor.
---
Original Press Release:
New Snap-On 3/8-Inch Magnesium Impact Wrench Offers Increased Versatility in a Lighter Weight, More Powerful Package
KENOSHA, Wis., May 9, 2005 - Continuing Snap-on Tools Company's dedication to innovation in design and performance, the Snap-on® 3/8-inch Magnesium Impact Wrench (MG31) places impervious structure, reduced weight and improved torque into the hands of vehicle technicians and enthusiasts. The new tool helps users tackle on-the-spot jobs such as removing lug nuts, loosening tie rod ends and securing other fasteners more accurately, quickly and comfortably than ever before. The Snap-on Magnesium Impact Wrench combines the strength and reduced weight of magnesium with Snap-on's patented one-piece housing design to provide increased performance and comfort. At 2.9 pounds, the tool's balanced design, cushioned trigger and low vibration motor ensure control for jobs that require extended operation in a variety of working positions, including under-car and above-shoulder tasks. Enhancing the tool's applicability, a slim nose design allows greater access to restricted areas. The tool's features combine to reduce operator fatigue, making the MG31 a primary choice for technicians, repair shops and industry - from alignment technicians, muffler shops, manufacturing facilities and salvage yards - who use impact wrenches as their most important tool. An internal twin hammer mechanism delivers increased impact per blow at 300 foot-pounds of torque, an ample amount of force for nearly any tightening or loosening job. The reverse bias motor offers extra torque to quickly remove stubborn, stuck or rusted-on fasteners. The motor's eight-vane rotor increases anvil acceleration and allows consistent performance when working in low and high compressed air environments. Snap-on uses Red Line Synthetic Racing Oil to continuously lubricate critical and fast-moving internal components further protecting and prolonging the life of the Snap-on Magnesium Impact Wrench. Constant lubrication maintains the integrity of the air hammer's motor, reducing potential maintenance downtime and protecting the owner's investment. The permanent, maintenance-free oil bath minimizes the extra effort of greasing components on traditional impact wrenches and helps extend the overall life of the tool. An Anvil Stop Lock feature immediately halts the spinning anvil upon trigger release, which increases safety by preventing bolts or sockets from slipping or suddenly releasing. Additional features that enhance the Snap-on Magnesium Impact Wrench are a replaceable non-slip, comfort-cushioned handle and trigger, shielding the users hand from cold, compressed air and adding comfort during use. The cushioned material helps reduce user fatigue and increase user control. Metal reverse and power controls add greater durability and longer life to the tool-a distinct feature on all new Snap-on impact wrenches. The Snap-on Magnesium Impact Wrench is designed for tightening and removal tasks in an array of work environments, including motorcycle, automotive, ATV, truck, boating, small engine and tire shops, as well as home garages. Customers can find out more about the Snap-on® 3/8-inch Magnesium Impact Wrench (MG31) by contacting their local Snap-on representative, visiting www.snapon.com or calling toll free 877-SNAPON-2 (877-762-7662). Snap-on Tools Company, LLC is a subsidiary of Snap-on Incorporated, a leading global developer, manufacturer and marketer of tool and equipment solutions for professional tool users. Product lines include hand and power tools, diagnostics and shop equipment, tool storage products, diagnostics software and other solutions for the transportation service, industrial, government, education, agricultural, and other commercial applications, including construction and electrical. Products are sold through its franchised dealer van, company-direct sales and distributor channels, as well as over the Internet at snapon.com. Founded in 1920, Snap-on is a $2 billion-plus, S&P 500 company headquartered in Kenosha, Wis., and employs approximately 11,500 people worldwide.
More from Non-Industrial Products