Impact Wrench delivers up to 1,300 blows per minute.
Press Release Summary: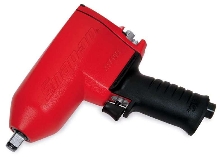 Snap-on® XT7100, ½ in. Magnesium Impact Wrench combines one-piece magnesium housing, continuous internal oil bath, and cushioned, non-slip trigger and grip. Biased tip valve design promotes air flow to dual chamber motor for immediate start-ups upon trigger activation, while Anvil Stop Lock on impact immediately halts anvil when trigger is released. Motor and twin hammer impact mechanism power through rusted and seized applications with 700 lb-ft torque.
---
Original Press Release:
New Snap-On XT7100 Impact Wrench Offers Unparalleled Power, Performance and Productivity
Functional Design Advances Air Wrenches to New Level KENOSHA, Wis., June 17, 2005 - Snap-on is proud to introduce the newest member of its power tool family, the Snap-on® XT7100 1/2-inch Magnesium Impact Wrench. The wrench breaks new ground by combining complementary features never seen before in a single impact wrench. The design offers a one-piece magnesium housing, dual chamber motor, continuous internal oil bath and a cushioned trigger and grip to deliver greater impact and more power per blow. The unit's dual chamber motor offers twice the power strokes, more torque, immediate acceleration, steadier output and reduced vibration. The motor and twin hammer impact mechanism power through tough rusted and seized applications by delivering dependable hard-hitting blows with fewer moving parts and increased user efficiency. A combination of 700-foot pounds of torque and 1,300 blows per minute work together to reduce bolt removal time by nearly 50 percent. A patented biased tip valve design increases air flow to the dual chamber motor for immediate motor start ups upon trigger activation. The nine-vane composite rotor allows the unit to perform well in both high- and low-pressure environments by displacing more air. The composite vane material and solid motor shaft offer greater durability than plastic vanes and hollow shafts found on competitive models. The one-piece magnesium housing of the Snap-on Magnesium Impact Wrench is lighter and stronger than previous aluminum housings. The housing is constructed as a patented one-piece unit to ensure components remain tightly and accurately aligned during heavy-hitting, long-term use. The magnesium housing also distributes the tool's weight evenly for optimal control and comfort. The Snap-on Magnesium Impact Wrench's internal components are continuously lubricated in a bath of Red Line Synthetic Oil to eliminate the need for constant greasing, making the unit virtually maintenance free. The continuous lubrication helps prevent premature wear and component lock-up. A tightly-weaved stainless steel air inlet screen prevents dust, dirt and contaminants from entering the tool. The non-slip handle and trigger on the wrench are made from a comfort cushion material, which lessens user fatigue and hand stress on jobs requiring prolonged use. The handle and trigger both absorb excess vibration and insulate against cold compressed air. The trigger is also designed to eliminate finger pinch points. A pin-locked mechanism and patented steel tip valve are incorporated into the trigger for greater user control. The handle grip is 3.2 inches long, resistant to chemicals and field replaceable. Metal controls, including the wrench's reverse lever, offer greater durability and longer life compared to plastic controls. The resilient construction and two-year warrantee, which covers parts and labor, help to ensure a long-lasting, problem-free tool. In addition to increased power, performance and comfort, the Snap-on Magnesium Impact Wrench is safe to use. An innovative Anvil Stop Lock on the impact immediately halts the anvil as soon as the trigger is released, preventing the unpredictable occurrence of nuts releasing from the tool's anvil-keeping the user and surrounding objects protected from potential injury or damage. Customers can find out more about the Snap-on® XT7100 1/2-inch Magnesium Impact Wrench by contacting their local Snap-on representative, visiting www.snapon.com or calling toll free 877-SNAPON-2 (877-762-7662). Snap-on Tools Company, LLC is a subsidiary of Snap-on Incorporated, a leading global developer, manufacturer and marketer of tool and equipment solutions for professional tool users. Product lines include hand and power tools, diagnostics and shop equipment, tool storage products, diagnostics software and other solutions for the transportation service, industrial, government, education, agricultural, and other commercial applications, including construction and electrical. Products are sold through its franchised dealer van, company-direct sales and distributor channels, as well as over the Internet at snapon.com. Founded in 1920, Snap-on is a $2 billion-plus, S&P 500 company headquartered in Kenosha, Wis., and employs approximately 11,500 people worldwide.
More from Agricultural & Farming Products