Immersion Vacuum Cleaner System suits hazardous locations.
Press Release Summary: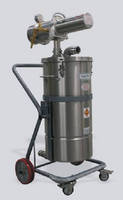 Complying with NFPA, NEC, and OSHA standards, Explosion Proof Interceptor Bath Immersion Vacuum Cleaner System provides neutralization of recovered combustible, conductive, and explosive dusts. Baffled Mechanism insures that recovered dusts become inert when mixed with neutralizing liquid within recovery tank. Coalescing Filter Element for moisture removal is located downstream, along with HEPA Filter that provides efficiency of 99.995% on 0.3 micron.
---
Original Press Release:

The Ultimate Explosion Proof/Dust Ignition Proof Interceptor Bath Immersion Vacuum Cleaner System for Hazardous Locations



Meets the NFPA 484 Standard for Combustible Metals

Tiger-Vac is pleased to introduce its latest model designed for the neutralization of recovered combustible, conductive and explosive dusts into an Immersion Bath System. Our uniquely designed Baffled Mechanism insures that the recovered dusts become inert when mixed with the neutralizing liquid within the recovery tank. The entire vacuum cleaner can also be rendered inert when supplied with ARGON Gas. A Coalescing Filter Element (CFE) for moisture removal is located downstream, along with a HEPA Filter with an efficiency of 99.995% on 0.3 micron, to ensure that no bubbles or particulate air can escape the system. Turnkey System - all filters, as well as a complete tool kit, are included with the unit. A Conversion Kit is available to convert for wet and dry recovery.

When dealing with the recovery of combustible/conductive metal dusts such as: Aluminum, Magnesium and all other dusts classified as commercial alloys: these dusts can cause an exothermic reaction and more severe damage than other types of combustible dusts. Because of this our system complies with NFPA, NEC and OSHA standards set for combustible, conductive dusts and flammable gases locations - Class I - Groups C & D and Class II - Groups E, F and G.

Please note the following: NFPA 484 standard for Combustible Metals - "Vacuum cleaning shall be used only if listed or approved for use with combustible aluminum dust". It also states - " Typical Precipitation Collector for portable dust producing equipment are acceptable. The reaction of water and aluminum produces Hydrogen. Hydrogen is extremely flammable and very easy to ignite. Do not use water in this case in the Immersion Bath System when recovering aluminum and many other commercial alloys.

Tiger-Vac sold its first vacuum cleaner in 1969. Having been in business for over 40 years, we have come to know our industry very well. Our customers demand a commitment to manufacturing and delivering quality vacuum cleaners that suit their various needs.

Being ISO 90001:2008 and CSA, ATEX, IECEx, NRTL (Nationally Recognized Testing Laboratory) worldwide certified, we have not only met these demands but exceeded them. We continuously strive to improve upon our existing products, as well as design new systems, to serve ever changing industries.

For more information please visit our website located at www.tiger-vac.com.

AT TIGER-VAC SAFETY HAS NO COMPROMISE

More from Electrical Equipment & Systems