Imaging IP enables human-like intelligent vision processing.
Press Release Summary: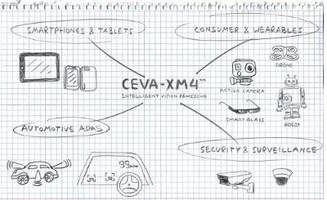 Supporting real-time 3D depth map and point cloud processing for 3D scanning, CEVA-XM4 aids implementation of energy-efficient, human-like vision and visual perception capabilities in embedded systems. Programmable wide-vector architecture features fixed- and floating-point processing, multiple simultaneous scalar units, and vision-oriented instruction set. Parallel random memory access and 2D data processing scheme enable 4,096-bit processing in single cycle with memory bandwidth <512 bits.
---
Original Press Release:

CEVA Brings Human-Like Intelligent Vision Processing to Low-Power Embedded Systems



New CEVA-XM4 imaging and vision IP takes embedded vision one step closer to human vision, enabling:

- Real-time 3D depth map and point cloud generation

- Deep learning and neural network algorithms for object recognition and context awareness

- Computational photography for image enhancement including zoom, image stabilization, noise reduction and improved low-light capabilities



MOUNTAIN VIEW, Calif. -- CEVA, Inc. (NASDAQ: CEVA), the leading licensor of DSP IP platforms for cellular, multimedia and connectivity, today unveiled the CEVA-XM4, its fourth-generation imaging and vision processor IP. Building on the success of the CEVA-MM3101, the CEVA-XM4 is equipped with specific functionality required to solve the most critical challenges faced when implementing energy-efficient human-like vision and visual perception capabilities in embedded systems.



The integration of human-like vision processing in embedded systems continues to accelerate, driven by applications in smartphones, tablets, automotive safety and infotainment, robotics, security and surveillance, augmented reality, drones, and signage. When combined with the Internet of Things (IoT), the myriad of potential applications point to a 'connected vision' paradigm.



However, imitating human vision and adding computational photography to embedded systems is challenging, given the typically limited space and power resources. To address these issues, CEVA incorporated programmable wide-vector architecture, with fixed- and floating-point processing, multiple simultaneous scalar units, and a vision-oriented low-power instruction set. As a result, the CEVA-XM4 achieves up to 8x performance improvement with 35% greater energy efficiency, compared to the CEVA-MM3101.



The new IP's capabilities allow it to support real-time 3D depth map generation and point cloud processing for 3D scanning. In addition, it can analyze scene information using the most processing-intensive object detection and recognition algorithms, ranging from ORB, Haar, and LBP, all the way to deep learning algorithms that use neural network technologies such as convolutional neural networks (CNN). The architecture also features a number of unique mechanisms, such as parallel random memory access and a patented two-dimension data processing scheme. These enable 4096-bit processing -- in a single cycle -- while keeping the memory bandwidth under 512bits for optimum energy efficiency.



In comparison to today's most advanced GPU cluster, a single CEVA-XM4 core will complete a typical 'object detection and tracking' use-case scenario while consuming approximately 10% of the power and requiring approximately 5% of the die area.



Taking computer vision one step closer to human vision, the CEVA-XM4 also supports a wide range of computational photography algorithms that enhance the video or image, including refocus, background replacement, zoom, super-resolution, image stabilization, noise reduction and improved low-light capabilities.



Gideon Wertheizer, CEO of CEVA stated: "CEVA-XM4 is a huge step forward for implementing intelligent vision processing in low-power embedded applications. CEVA-XM4 builds on our extensive experience in imaging and vision achieved through working with more than a dozen CEVA-MM3101 licensees and 30 partners across a wide range of end markets, from smartphones and tablets through to surveillance and ADAS. The performance per mW and performance per mm(2) of CEVA-XM4 significantly exceed those of any other computer vision solution in the market, including leading GPU-based solutions."



Commenting on the launch of the CEVA-XM4, Jeff Bier, Founder, Embedded Vision Alliance, explained, "Embedded vision is proliferating into a wide range of applications, including mobile, automotive and consumer devices. By incorporating specialized programmable processors like the CEVA-XM4 into their designs, chip suppliers can deliver the heavyweight processing performance required by typical computer vision algorithms while staying within size, cost and power consumption limits required by high-volume portable devices. This makes it possible to create systems that are more intelligent, easier to use, safer and more responsive."



For more information on CEVA-XM4, go to www.ceva-dsp.com/XM4. CEVA-XM4 will be demonstrated at the upcoming Mobile World Congress in Barcelona.



More information on CEVA at MWC is available by visiting http://events.ceva-dsp.com/mwc15/



About CEVA, Inc.

CEVA is the leading licensor of cellular, multimedia and connectivity technologies to semiconductor companies and OEMs serving the mobile, consumer, automotive and IoT markets. Our DSP IP portfolio includes comprehensive platforms for multimode 2G/3G/LTE/LTE-A baseband processing in terminals and infrastructure, computer vision and computational photography for any camera-enabled device, audio/voice/speech and ultra-low power always-on/sensing applications for multiple IoT markets. For connectivity, we offer the industry's most widely adopted IPs for Bluetooth (Smart and Smart Ready), Wi-Fi (802.11 b/g/n/ac up to 4x4) and serial storage (SATA and SAS). One in every three phones sold worldwide is powered by CEVA, from many of the world's leading OEMs including Samsung, Huawei, Xiaomi, Lenovo, HTC, LG, Coolpad, ZTE, Micromax and Meizu. Visit us at www.ceva-dsp.com and follow us on Twitter, YouTube and LinkedIn.



CONTACT:

CEVA

Richard Kingston

CEVA, Inc.

650-417-7976

richard.kingston@ceva-dsp.com

More from Controls & Controllers