Image Sensor Inspection Device is designed for DSLRs.
Press Release Summary: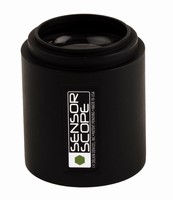 Using magnification and focused, high intensity light, SensorScope(TM) System helps users inspect and clean camera's digital SLR sensor. Portable unit features 5x magnification lens and 4 ultra bright focused LED lights to illuminate field of inspection. System includes DigitalDuster cleaning kit, and is equipped with SensorVac, SensorWand(TM) and SensorSolution to addresses all types of contaminants.
---
Original Press Release:

Delkin's SensorScope, the Safest and Most Effective System for Cleaning Your Digital SLR Image Sensor.



Poway, CA. December 20, 2006 - Delkin Devices, Inc., makers of high quality digital photography products and accessories, today announced the SensorScope(TM) System, the safest and most effective system for cleaning your digital SLR image sensor. The innovative SensorScope (patent pending) is the first and only sensor inspection device in the market designed for DSLRs. Its use of magnification and focused, high intensity light enables camera owners to inspect their camera's sensor to see if it needs cleaning. Why risk damaging your camera -don't clean your sensor if it doesn't need it!

"Because the DSLR sensor is electrically charged, dirt and dust are attracted to it and cannot be easily removed," explained Eric Richter, Delkin's Marketing Manager. "Usually you find out after you have taken a picture that your sensor needs cleaning."

SensorScope enables you to check your sensor to see if it needs cleaning-there's nothing safer than not cleaning your sensor. The SensorScope looks like a camera lens; however, it allows you to look back into your camera to inspect your sensor. The SensorScope is easily portable and provides a 5x magnification lens and 4 ultra bright LED lights, which are focused to completely illuminate the field of inspection. Although specifically designed for Canon and Nikon DSLRs, the SensorScope may be used on any manufacturer's DSLR.

"Our main objective is to protect the DSLR sensor while safely and completely cleaning it," said Richter.

Dirty sensors are a real problem. What you can't see can affect your pictures. Dirt comes from many sources and it must be removed in a safe and effective way, or your images will show this debris. The SensorScope system, which includes the new DigitalDuster cleaning kit, is the safest and most effective system for cleaning your DSLR sensor. It comes equipped with the SensorVac, SensorWand(TM) and SensorSolution. Only the SensorScope system addresses all types of contaminants and the proper way to remove them safely.

Four different types of contaminants can show up on your DSLR camera sensor. These vary by their chemical components. The most common types of debris that show up are dry, and look like dust. This "dust" can be made up of one of four materials:

Silica/Quartz: these hard particles such as rock or sand can easily cause scratches

Metallic: hard particles such as metal shavings from the manufacturing of the camera

Fiber: synthetic materials such as nylon

Organic: pollen, skin cells, and similar material

Tougher spots may be "wet" rather than "dry". Examples include rain drops, camera lubricant, skin oils, and saliva. Surprisingly, dust and debris can originate from within the camera as well. When a new camera is used for the first time, the internal mechanism movement itself may stir up small pieces of metal, plastic, dust, fabric, and camera lubricant, which are then drawn to the sensor.

The DigitalDuster kit handles all types of dry and wet contaminants. The SensorVac is a battery or USB powered portable vacuum, which uses suction to draw out abrasive particles and dust. No more canned air that just blows debris around! The SensorVac's tip is made of ultra-fine, non-abrasive and static-free brush filaments. These brush filaments protect against damaging the sensor screen in case of accidental contact.

Actual cleaning contact is done with the unique SensorWand. Each end of the flexible SensorWand has a soft lint-free and non-abrasive fabric head. One end is used first for wet cleaning, and the other for the dry cleanup. This ensures the photographer can complete a cleaning with just one wand, leaving no moisture behind. A novel design feature provides additional protection against over-saturation. Each wand head is wicked with small slots to pull excess liquid away from the wand tip.

SensorSolution is the exclusive chemical cleaning solution included in the DigitalDuster kit for wet cleaning. It is alcohol free and safe for check-in air travel and air shipment. SensorSolution dries quickly without the use of methanol or any other harsh chemicals, and effectively breaks the bond that holds many of the tougher contaminants onto the sensor surface. With two drops of SensorSolution and a few swipes of a SensorWand, dried raindrops, pollen, chamber lubricant, dust, and anything else that finds its way into your sensor chamber can be easily, effectively, and safely wiped away.

Pricing and Availability

Delkin Devices begins shipping the SensorScope System and DigitalDuster kit in early January. More information is available on Delkin's website: www.delkin.com. Three models are available:

DigitalDuster Refill Kit - $49.99 MSRP

15 SensorWands
1 SensorSolution
1 cleaning guide

DigitalDuster Kit - $89.99 MSRP

1 SensorVac
12 SensorWands
1 SensorSolution
1 cleaning guide
1 DigitalDuster carrying case

SensorScope System - $189.99 MSRP

1 SensorScope
1 SensorVac
12 SensorWands
1 SensorSolution
1 cleaning guide
1 SensorScope carrying case

Delkin Devices, Inc., based in Poway, California, has been providing "Everything but the Camera" since 1986. From Archival Gold Media to Pop-Up Shades, Delkin provides products with premium quality, innovative designs and an ongoing dedication to superior customer service. Delkin Devices and its products have become worldwide industry leaders in both OEM and consumer markets. The company's eFilm brand of memory cards is a leading choice among professional photographers and others passionate about digital photography. Delkin Devices' innovative digital photography products are available worldwide through a network of independent camera stores, and online at Delkin Devices' website: www.delkin.com.

Media Images are available for download at: delkin.com/media_images

Contact: Duke Doudna
Marketing Department
858-391-1234
Duke@delkin.com

More from Agricultural & Farming Products