Image Co-Processors enhance automotive camera capabilities.
Press Release Summary: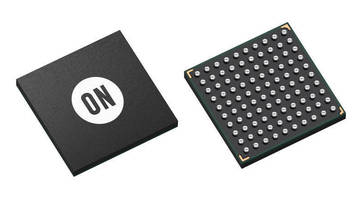 Working with 2 and 1.2 MP image sensor devices, AP020x series of image co-processors enable range of solutions for automotive rear view and surround view cameras. Products incorporate high dynamic range (HDR) color pipeline with adaptive local tone mapping (ALTM). While AP0200, AP0201, and AP0202 support up to 2 MP 1080p image sensors, AP0102AT supports up to 1.2 MP 720p image sensors. Products offer various interfaces and support 30/45/60 fps operation at 1080p/960p/720p, respectively.
---
Original Press Release:

ON Semiconductor Introduces Series of Advanced Image Co-Processors for Next Generation Automotive Camera



New solutions deliver higher resolution, multiple interfaces and new automotive-targeted features for 1080p and 720p automotive rear view and surround view cameras



PHOENIX, Ariz. — ON Semiconductor (Nasdaq: ON), driving energy efficiency innovations, enables high dynamic range (HDR) 1080p automotive camera systems, with the introduction of a new series of image co-processors. Designed to work in conjunction with the company's high performance 2 megapixel (MP) and 1.2 MP image sensor devices, the new AP020x series of co-processors enable a full range of complete solutions for automotive rear view and surround view cameras.



"With the announcement of these automotive co-processors, ON Semiconductor expands its position to supply leading global automotive customers with an even wider range of complete camera solutions for both high performance 1080p and 720p video," said Sandor Barna, vice president, Automotive Imaging and Scanning Division at ON Semiconductor. "To specifically address customer requirements, we have added higher resolution, multiple interfaces and new automotive-targeted features such as ASIL support."



The new image co-processors all incorporate an advanced HDR color pipeline with adaptive local tone mapping (ALTM). The AP0200, AP0201 and AP0202 support up to 2 MP 1080p image sensors, and the AP0102AT supports up to 1.2 MP 720p image sensors. All of the co-processors offer support for functional safety features Automotive Safety Integrity Level (ASIL) levels A and B. They support 30 frames/second (fps) operation at 1080p, 45 fps at 960p and 60 fps at 720p. They also support Ethernet or parallel output interfaces, and incorporate I2C, SPI (Serial Peripheral Interface) and general purpose input/outputs (GPIOs). Each has an operating temperature range of -40 °C to +105 °C (ambient) and is fully AEC-Q100 qualified.



The AP0200AT image co-processor is optimized for rear view cameras and offers Ethernet output. It also includes a spatial transform engine (STE) which enables lens distortion correction and de-warping, as well as a sophisticated overlay graphics engine.



The AP0201AT image co-processor also has Ethernet output and is aimed at Ethernet-based surround view.

The AP0202AT image co-processor is targeted at digital surround view and utilizes a 24-bit parallel output.

The AP0102AT image co-processor is targeted at 1 MP/720p rear view cams and includes the STE and overlay graphics engine.



The AP020x family will be offered as combined tuned solutions with existing image sensors such as the 1 MP AR0140AT, AR0132AT and AR0136AT, as well as the new AR0230AT 2 MP 1080p sensor. These combination solutions of sensor plus co-processor provide automotive Tier 1s with the widest range of options for multiple market segments, while speeding time to market.



Availability

The AP0200AT, AP0201AT, AP0202AT and AP0102AT are all offered in a VFBGA-100 package and are sampling now. The AR0230AT is available in an IBGA-80 and is also available for sampling. These parts will be available in mass production in 3Q15.



Follow @onsemi on Twitter: www.twitter.com/onsemi



About ON Semiconductor

ON Semiconductor (Nasdaq: ON) is driving energy efficient innovations, empowering customers to reduce global energy use. The company is a leading supplier of semiconductor-based solutions, offering a comprehensive portfolio of energy efficient power and signal management, logic, standard and custom devices. The company's products help engineers solve their unique design challenges in automotive, communications, computing, consumer, industrial, medical and military/aerospace applications. ON Semiconductor operates a responsive, reliable, world-class supply chain and quality program, and a network of manufacturing facilities, sales offices and design centers in key markets throughout North America, Europe, and the Asia Pacific regions. For more information, visit http://www.onsemi.com.



ON Semiconductor and the ON Semiconductor logo are registered trademarks of Semiconductor Components Industries, LLC. All other brand and product names appearing in this document are registered trademarks or trademarks of their respective holders. Although the company references its Web site in this news release, such information on the Web site is not to be incorporated herein.



Contacts

Veronika Holscher 

Marketing Commumications, ISG

ON Semiconductor

(408) 660-2668

Veronika.Holscher@onsemi.com



Parag Agarwal  

Vice President Investor Relations

ON Semiconductor                           

(602) 244-3437  

Parag.Agarwal@onsemi.com



Issued by:

Hannah Hines

Pinnacle Marketing Communications Ltd

Tel: + 44 (0) 20 8429 6547

Email: h.hines@pinnaclemarcom.com

Web: http://www.pinnacle-marketing.com

Related