Image Analysis Software is suited for laboratory and industrial users.
Press Release Summary: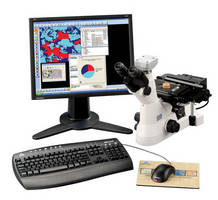 Offering point-and-click integration with microscopes and cameras, OmniMet OmniMet® 9.5 captures, analyzes, and stores images and measurement results. Features include database that can be browsed using PC-style folder interface, ability to store multimedia files, preview pane to view thumbnail images, and ability to flip and rotate images. Optional modules for industrial microstructural analysis are all fully compliant with relevant ASTM and ISO methods.
---
Original Press Release:

OmniMet® 9.5 Image Acquisition and Analysis Software Improves Lab Efficiency, Increases Operator Appeal



Buehler's newly updated OmniMet® 9.5 image analysis software features new analytical functions, such as grid overlays, additional manual measurement options and redesigned bitplane manipulators for more efficient writing of automated analysis algorithms.

Highlights/Key Facts

o Enhanced database features more intuitive navigation and numerous tools for users, managers and administrators to improve efficiency at all levels of laboratory operation.

o Database stores multimedia files and uses a traditional PC-style folder structure with a preview pane for browsing archived images.

o Optional industrial application modules now process data more efficiently.

LAKE BLUFF, Ill.-Buehler's new OmniMet 9.5 image acquisition and quantitative analysis software improves lab efficiency and increases operator appeal compared to previous generations of the product. Specific improvements include browsing the database using a typical PC-style folder interface, the ability to store multimedia files (such as instruction files, written procedures and measurement reports), a preview pane to view thumbnail images of files within a folder, the ability to flip and rotate images, overlay grids, improved bitplane manipulation functions, database administration tools to assign user rights and access levels and an audit trail function to track file access and modification information.

Typical OmniMet users are in the automotive, aerospace, primary metals, metal fabrication, welding, electronics, printed wire board (PWB), materials science, university, testing and quality control industries where quantitative industrial microscopy forms a vital part of the process.

The OmniMet system offers seamless point-and-click integration of microscopes, cameras and image analysis software to capture, analyze and store images and measurement results. Measurements from simple manual point-and-click options to sophisticated automated analysis algorithms are all possible. OmniMet also includes optional modules for industrial microstructural analysis-all fully compliant with the relevant ASTM and ISO methods-to enable automated grain size measurement, phase area percentage, weld characteristics and other analytical functions considered vital in metallography, petrography and electronics testing (view the complete module list in the OmniMet product literature). All optional modules have been updated making use of the new analytical capabilities offered in OmniMet 9.5

Product Manager Quote

"OmniMet 9.5 offers a sophisticated, comprehensive image analysis solution. New features that improve laboratory efficiency include multimedia storage, image manipulation and administrative tools. Most importantly, we have incorporated customer suggestions that make OmniMet 9.5 more intuitive and powerful than ever."
-Sean O'Flaherty, optical product manager, Buehler

Additional Information

User-Friendly

OmniMet 9.5 features a vastly expanded database and improved structure to more closely mimic the standard PC-style environment with which users are familiar. In response to customer demand, images, data, reports and multimedia files are now stored in a more intuitive multi-tier folder system which users can organize and customize to match company or department requirements. To easily share and present information, OmniMet users can generate statistical information, annotate images and export data to customizable Microsoft® Excel or Word reports.

Buehler is the world's premier manufacturer of scientific equipment and supplies for materials preparation and analysis. Buehler's products are used throughout the world in manufacturing facilities, quality laboratories and universities to enable material characterization, ensure quality and perform materials research. For more information, visit www.buehler.com or contact Buehler at 41 Waukegan Road, Lake Bluff, IL 60044 or (ph) 847-295-6500. Buehler is a wholly owned subsidiary of Illinois Tool Works (NYSE: ITW).

More from Sensors, Monitors & Transducers