Image Acquisition Board targets machine vision applications.
Press Release Summary: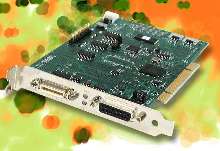 Model PC2-CamLink monochrome board, intended for 32-bit PCI bus, supports one Base Camera Link(TM) area or linescan camera. Once camera cables and external triggers are connected, visual status LEDs provide visual indication that all signals for acquisition and trigger are present and active. Board allows for transfers of displays to host memory and includes 8-bit in, 8-bit out registered interface for connectivity to other machine vision equipment.
---
Original Press Release:

Coreco Imaging Introduces New PC2-Camlink Image Acquisition Board for Cost-Sensitive Machine Vision Applications


MONTREAL, QUEBEC (February 9, 2004) - Coreco Imaging, a leading developer of high-performance machine vision components and services, today announced the availability of the PC2-CamLink image acquisition board, the second product in the company's new PC2 Series. A monochrome board designed for the 32-bit PCI bus, the PC2-CamLink supports one Base Camera Link(TM) area or linescan camera. The cost-effective PC2-CamLink is designed for ease of implementation in a variety of OEM imaging applications.

"During Coreco Imaging's 25 years in business, one of the keys to our success has been our ability to offer high-quality imaging components at a variety of functionality and price points to meet the needs of every OEM and system integrator," said Philip Colet, Vice President of Sales and Marketing at Coreco Imaging. "The PC2-CamLink follows in this tradition, fulfilling a need we saw for a low-priced, easy-to-use and highly flexible Camera Link-compatible image acquisition board."

Easy to set up and use
Once the camera cables and external triggers are connected, the PC2-CamLink's bracket-mounted visual status LEDs provide an immediate visual indication that all signals for acquisition and trigger are present and active. These signals validate key data, including camera connection, image captures, occurrence of triggers and reporting of errors. To further expedite setup, the PC2-CamLink provides direct power (5V or 12V) to the camera. An 8-bit in, 8-bit out registered interface simplifies connectivity to other machine vision equipment, while pin-to-pin connectors are compatible with other Coreco Imaging PC2 Series and PCVision boards.

Highly reliable image acquisition
The PC2-CamLink doesn't sacrifice performance for price. The board is engineered within Coreco Imaging's exacting trigger-to-image reliability technology framework to more reliably and efficiently control and monitor the entire image acquisition sequence, from the time that an external trigger event occurs to the moment the data is sent to the PCI bus. The board allows for transfers of displays to host memory, freeing the CPU to perform processing tasks more quickly.

The PC2-CamLink features several trigger interface options, including separate inputs for two optocoupled/TTL and two LVDS triggers, and a dual phase shaft encoder for linescan applications on two dedicated LVDS inputs that helps ensure the accuracy of the acquired image.

The board supports variable frame lengths from linescan cameras and infinite vertical length frames (8K pixels x infinite number of lines), and area scan camera frame sizes up to 8K pixels x 8K lines.

Extensive software support
The PC2-CamLink is fully supported by Coreco Imaging's Sapera(TM) LT and Imaging Foundation Class(TM) (IFC) software development libraries, enabling PC2-CamLink applications to be developed under Windows NT®, Windows®2000, and Windows®XP. Sapera LT allows users to develop applications with C language DLLs, C++® classes or Active X®controls for Microsoft®Visual C/C++®6.0 (or higher) or Visual Basic®6.0 (or higher) development platforms.

For image processing and analysis, Coreco Imaging offers Sapera Processing. Fully integrated with Sapera LT functionality, Sapera Processing is a dynamic, Windows-based comprehensive programming library. Hardware independent and designed to simplify vision application development, Sapera Processing is based on a set of high performance C++ classes and uses MMX, SSE (streaming SIMD Extensions), and SSE2 to meet the challenging operational requirements of today's imaging systems.

The PC2-CamLink is available immediately. Please contact Coreco Imaging for OEM pricing.

About Coreco Imaging
Celebrating its 25th year in imaging, Coreco Imaging is the world leader in the design, development and marketing of computer vision products. Our customers are equipment manufacturers who use our products to improve quality control, productivity and competitiveness. The company sustains an impressive investment in the product development of new vision processors, smart cameras and computer vision algorithms, keeping it at the forefront of technology. With over 170,000 installations and 24 years of industry experience, the company has operations in Montreal QC, Billerica MA, Cleveland OH, San Juan Capistrano CA and Vancouver, BC, and is publicly traded on the Toronto Stock Exchange (TSX) under the symbol of CRC.

Kumi Verma
Marketing Communications Manager, Intl.
Tel: +1-514-333-1301
e-mail: kverma@corecoimaging.com

More from Electrical Equipment & Systems