Illuminated Pushbutton Switches offer aesthetic options.
Press Release Summary: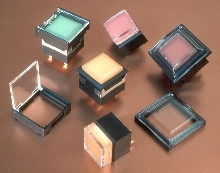 UB2 power and logic-level switches are offered with variety of cap styles and accessories. Sculptured caps have indentation that allows operator to slip finger into correct center position to actuate switch. Beveled caps evenly and brightly diffuse LEDs. Flat caps offer clear lens with colored diffusers. All caps are constructed of polycarbonate with glossy finish. Splash cover with clear soft lid protects switch while allowing LED illumination to remain visible.
---
Original Press Release:

Aesthetic Options on NKK Switches' UB2 Illuminated Pushbuttons Increase Visual and Practical Appeal


SCOTTSDALE, Ariz. (May 6, 2002) - NKK Switches, the leading manufacturer of illuminated switches, recently expanded the aesthetic options for the UB2 series low profile, power and logic-level rated pushbutton switches. Enhancements to the single and bicolor LED illuminated switches offer engineers a vast array of colors, cap styles and accessories to increase visual and practical appeal.

Sculptured caps, an option designed with the operator interface in mind, feature an indentation centered on the top of the cap that allows the operator to automatically slip a finger into the correct center position to actuate the switch. The sculptured caps are clear with translucent colored diffusers available in white, amber, red or green to accompany the available colors of LED. When illuminated the sculptured caps have a brilliant, jeweled appearance.

Beveled caps offer another aesthetic avenue. Constructed of a translucent colored polycarbonate, the beveled caps evenly and brightly diffuse the LEDs they accompany.

Flat caps, an additional eye-pleasing option, feature a clear lens with translucent colored diffusers that brilliantly enhance the illuminated LEDs. Beveled and flat cap styles are available in white, green, red and amber LED colors.

UB2 pushbuttons suit non-illuminated design requirements as well. Caps specifically designed for non-illuminated applications are available sculptured with a clear lens and colored inserts or beveled in an opaque color. Engineers can chose from an array of color options including white, red, green, yellow or black.

All cap options offered with the UB2 series are constructed of polycarbonate featuring a glossy finish and are suitable for legending in a number of ways. Engineers can choose to legend on diffusers or caps, or use film inserts. Legend packets are available upon request and facilitate the specification of any legend requirement.

The UB2 series accessories include a splash cover option. Designed for use in applications requiring protection from potential harmful elements, the splash cover's clear soft lid protects the switch while allowing the LED illumination to remain visibly brilliant. Constructed of two pieces: an outer clear PVC material and a polyethylene gasket, the splash cover has an operating temperature range of 0°C - +70°C (32° -
158°F).

For applications requiring protection from accidental actuation, engineers can specify a protective guard. Two different protective guards, which both open to a 90° angle, and a spring-loaded option are available. To facilitate a design requiring snap-in mounting, center and end barriers can be specified.

A leading designer and producer of electromechanical switches, NKK Switches offers one of the industry's most extensive selections of illuminated, process sealed, miniature, specialty and surface mount switches. The company manufacturers more
than three million different toggle, rocker, pushbutton, slide, rotary, DIP rotary, keypad and keylock switches. NKK Switches maintains a complete network of qualified representatives and distributors throughout the United States, Canada, Central and
South America, Europe and Asia.

For more information, contact NKK Switches, 7850 E. Gelding Dr., Scottsdale, AZ 85260. Phone 480/991-0942. Fax 480/998-1435. Or visit the NKK Switches Web site at www.nkkswitches.com.

More from Transportation Industry Products