Illuminated Pushbutton Switches include photo interrupter.
Press Release Summary: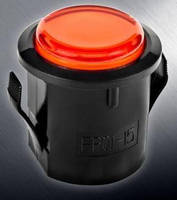 Utilizing single photo transistor to activate momentary ON position, FP01 Series provides minimum of 3 million mechanical operations. Rugged construction and smooth actuation allow repeated and rapid actuation force anywhere on cap surface. Operating from -25 to +50°C, contactless, snap-in mount devices include 6-pin socket and LED illumination with LEDs as integral component of switch. Required panel cutout is 22.9 mm and recommended panel thickness is 2.5-5 mm.
---
Original Press Release:

NKK Switches Announces Snap-In Mount Illuminated Pushbuttons with Photo Interrupter



The contactless design of FP01 pushbuttons ensures a long life

SCOTTSDALE, Ariz. - NKK Switches, the world's leading designer and manufacturer of innovative electromechanical switches, today announced the availability of the FP01 Series of contactless illuminated pushbutton switches. FP01 devices are ideal for critical and demanding applications requiring a robust and dependable solution.

FP01 contactless, illuminated pushbuttons use a diode photo interrupter rather than traditional contacts to ensure high reliability and a long life of 3 million mechanical operations minimum. These pushbuttons present an attractive alternative for engineers charged with designing panels for equipment exposed to corrosive gases and similarly harsh environments, where reliability due to contact contamination is a concern.

The rugged construction and smooth actuation of the FP01 Series allows repeated and rapid actuation force anywhere on the cap surface. Typical high usage applications for these devices include operator controlled industrial machinery, vending machines, gaming and museum displays.

These switches feature super bright LED illumination with the LEDs as an integral component of the switch. Engineers can configure FP01 devices for highly visible status indication by choosing colored actuators to match the red, green or amber LED illumination, or for subdued illumination in low light environments by specifying a white actuator over the colored LED.

Featuring a single photo transistor that activates a momentary ON position, these pushbuttons are snap-in mount for easy installation. Each device includes a six pin socket and engineers can choose between assembled connector plugs with wire leads or unassembled plugs and pins.

The FP01 Series has a behind panel depth of only 21.4mm. Actuator caps are round with a diameter of 26mm, providing ample actuating surface. The required panel cutout is 22.9mm and the recommended panel thickness range is 2.5mm to 5mm. The operating temperature range is negative 25 degrees Celsius through positive 50 degrees Celsius.

The actuator caps are constructed to easily accommodate pad printing or laser etching. Custom legends and additional value added wire assemblies are available from NKK Switches upon request.

A leading designer and producer of electromechanical switches, NKK Switches offers one of the industry's most extensive selections of illuminated, process sealed, miniature, specialty, surface mount and programmable switches. NKK manufactures more than 3.5 million toggle, rocker, pushbutton, slide, rotary, DIP rotary, keypad and keylock switches, each of which can be used as the foundation of a customized design. All switches are designed and manufactured to provide the quality and dependability that has made NKK the benchmark for reliability for over half a century.

NKK continues to lead the industry in responding to the needs of the marketplace with innovation, high reliability, customization and a commitment to excellence. The company provides a full suite of customization solutions that include: design, programming, printing and support. Downloadable 3D CAD models of the company's switches are available, allowing design engineers to quickly integrate complex models into their designs at no charge. NKK maintains a complete network of qualified representatives and distributors through the United States, Canada, Central and South America, Europe and Asia.

Engineers who design the human-machine interface for their products rely on the broad product line, specialized design expertise and customer support of NKK Switches. For more information, contact NKK Switches, 7850 E. Gelding Dr., Scottsdale, AZ 85260. Phone: (480) 991-0942. Fax: (480) 998-1435. Visit the NKK Web site at www.nkkswitches.com.

More from Transportation Industry Products