illbruck Acoustic Introduces Natural Grey Willtec® for Its Acoustical Products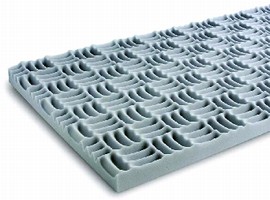 MINNEAPOLIS - illbruck acoustic has introduced natural grey as the new standard color for willtec, the core material in its acoustical products for wall panels, baffles, ceiling tiles, multilayer composites and HVAC duct liners.

Those products include SONEXclassic(TM) Panels, SONEXone(TM) Panels and Baffles, SONEXvalueline(TM) Baffles and Panels, SONEXpyramid(TM) Panels, SONEXsuper(TM) Wedges, PROSPEC® Foam, Composite and Pipelagging.

Natural grey willtec products have consistent color throughout their entire thickness. If the products are cut, broken or marred, the exposed interior color matches the exterior color.

willtec is made from lightweight porous melamine foam. It is Class 1 fire rated, meeting ASTM E-84 requirements for flame spread and smoke density, and passing the UL 1715 room fire exposure test. The versatile foam can be exposed to constant temperatures up to 300° F and short-term temperatures up to 482°F. It will char, but will not ignite, at temperatures up to 1120°F.

willtec foam's open-cell, fiber-free structure gives it extremely low density and lightweight, flexible qualities. The open cells allow the foam to absorb the acoustic energy over a wide range of frequencies, with noise reduction coefficients ranging from 0.75 to 1.05, depending on product thickness and surface finish.

willtec foam is easy to cut, mold, trim and laminate. illbruck's specially formulated water-based adhesive, acouSTIC(TM), can be used with SONEX® Panels for quick and easy installation.

willtec foam also can be painted in colors and treated with surface finishes, including illbruck's Hypalon® coating, to resist wear from dirt, water and solvents. For a product sample, contact illbruck acoustic, 800-662-0032, or visit the company's Web site, www.illbruck-acoustic.com/grey.

illbruck acoustic, inc. manufactures a broad range of attractive ceiling tiles, wall panels and room acoustic products for commercial applications, including CONTOUR® Ceiling Tiles, HARMONI(TM) Ceiling Tiles, WHITELINE® Ceiling Tiles, FABRITEC(TM) Wall Panels, SONEX® Panels and Baffles, and PROSPEC® Barrier materials.

More from Safety & Security Equipment