Ignition Circuit is designed for industrial oil/gas burners.
Press Release Summary: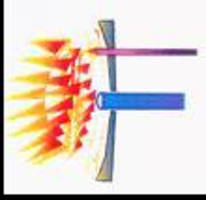 CoronaArc circuit incorporates additional high-voltage transformer and supporting diode to create continuous high-voltage DC spark at firing end. Spark current at surface of igniter electrode enables spark gap to be referenced to ground potential and concurrently serve as directed pathway through which stored energy of capacitor discharges high-current arc.
---
Original Press Release:

NEW CoronaArc Ignition Circuit for Industrial Burners



Fredrick Cowan & Company, Inc. has been servicing the industrial market place since 1957. We manufacture a wide range of IGNITION PROBES that are capable of meeting challenging applications including the: PowerArc "Resistive" Spark Plugs, CoronaArc® High Temperature Probes, Very High Voltage Sparkers, & High Pressure Turbine Electrodes. Probes with 3/8" dia. firing ends and 1/2" diameter firing ends with larger electrodes. Fredrick Cowan & Company is proud to release the New CoronaArc Circuit for burners & fuel oil & gas ignitors.

The Heart of the CoronaArc circuit is focused on the Firing End. The circuit is much the same as the PowerArc except the semiconductor material is eliminated. A second high voltage "transformer" and a supporting diode is added to create a continuous High Voltage DC Spark at the Firing End of the Ignitor Electrode. The existence of this spark current at the Surface of the Ignitor Electrode becomes the means by which the Spark Gap is referenced to ground potential and concurrently is the directed pathway by which the stored energy of the capacitor discharges a High Current Arc. In other words, we create a High Voltage spark at the firing end of the electrode, and the Capacitor part of the circuit pulsates a High Current Arc through it.

Flexible designs & customizing capabilities for all burner management applications, OEM manufactures of Direct Energy Ignitors, Customized Spark Plugs, Fuel, Gas & Oil Ignitors, Customized Burners Front Packages, Flame Scanners, Corona ARC Power Packs, First & Second Evolution Ignition Circuit Technology, Corona ARC & Power ARC Latest Technology & Live-ForEver ARC Conduit. Industries serviced include, power boilers, pulp & paper, process furnaces and marine gas turbines.

Call us today 631-369-0360 or contact via e-mail: info@fcowan.com Or visit our website, www.fcowan.com.

More from Electrical Equipment & Systems