IGBT drives ignition coil for better economy.
Press Release Summary: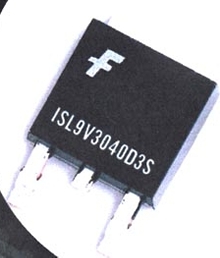 EcoSPARK family of IGBTs for ignition coil drivers works in new ignition controls for powertrain systems using coil-on-plug concept that eliminates high-voltage wires. IGBTs help coil drivers integrate active voltage clamp between collector and gate that provides inductive switching and limits stress applied to ignition coil. Saturation voltage is rated at 175°C and lO A with some products as low as l.9 V maximum.
---
Original Press Release:
Industry's Smallest Packaged IGBT For Automotive Ignition Targets Improved Efficiency And Reduced Vehicle Emissions - Available Now

San Jose, Calif. -November 6, 2001 Fairchild Semiconductor International (NYSE: FCS) announces the availability of its EcoSPARK family of IGBTs for ignition coil drivers. EcoSPARK technology, first presented at the PCIM Europe conference in June of this year, boasts a 40% reduction in silicon chip area and can be packaged in either the industry standard D-Pak or D2-Pak. Previously, silicon ignition coil drivers were only available in D2-Paks. The new EcoSPARK technology enables a die size that is small enough to fit into a D-Pak without giving up performance. This size reduction makes the EcoSPARK family the smallest available solution for driving ignition coils that can deliver the function in this 60% board space-saving package. The smaller die size also makes these products extremely cost competitive. The new generation of Ignition IGBTs was developed in the Discrete Power Products Group recently acquired from Intersil. This is the second automotive product technology introduced since the March acquisition, demonstrating Fairchild's commitment to increase market share in automotive electronics.

Automotive engines must have precisely controlled spark timing and sparkplug voltage to ensure high-efficiency and low-emissions. The ignition control in the powertrain systems is moving to a coil-on-plug ("pencil coil") concept. This eliminates the high-voltage wires, and with separate ignition coils for each cylinder, improves the spark control to meet increasingly lower emissions specifications. When the ignition coil drivers are mounted in the engine control units, they offer significant space savings without sacrificing performance.

EcoSPARK ignition coil drivers integrate an active voltage clamp between the collector and the gate that provides self-clamped inductive switching (SCIS) and limits the stress applied to the ignition coil. The EcoSPARK series enables the same level of SCIS robustness (300mJ) in the 60% smaller D-Pak package. Saturation voltage is rated at 175 C and lOA with some products as low as l.9V maximum. A 500mJ SCIS rated part is also being introduced that offers a cost reduction over the previous generation. The EcoSPARK family consists of 360 and 400V products in the D-Pak (TO-252) and D2-Pak (TO-263) packages with true single pulse collector-to-emitter avalanche energy ratings from 200mJ to 500mJ.

Availability: Samples available now Delivery: 13 weeks ARO

About Fairchild Semiconductor Fairchild Semiconductor International (NYSE:FCS) is a leading global supplier of high performance products for multiple end markets. With a focus on developing leading-edge power and interface solutions to enable the electronics of today and tomorrow, Fairchild's components are used in computing, communications, consumer, industrial, automotive and aerospace applications.

Fairchild's 11,000 employees design, manufacture and market power, analog & mixed signal, interface, logic, and optoelectronics products from its headquarters in South Portland, Maine, USA and numerous locations around the world.

More from Agricultural & Farming Products