IEPE Accelerometer suits modal analysis, seismic monitoring.
Press Release Summary: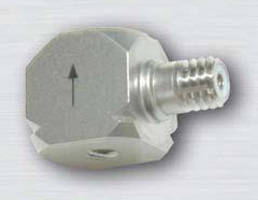 Available in 3 different ranges for 5, 10, and 50 g, PiezoBeam® Type 8640A(x) accurately measures frequency events from 0.5-5,000 Hz. It has bimorph piezoceramic sensing element, with internal Piezotron® charge converter, and offers optional TEDS IEEE1451.4 capability to simplify daily measurement work. Hermetically sealed single axis accelerometer features cube shape titanium housing and has low noise and low interference, offering high resolution up to 140 µg.
---
Original Press Release:

New Generation of PiezoBeam® IEPE Accelerometer



Kistler's new generation of PiezoBeam® IEPE accelerometer Type 8640A(x) offers best-in-class sensitivity to size ratio for modal analysis and seismic applications.

The Kistler Group has announced the global market launch of Kistler Type 8640A(x), a cost effective uniaxial PiezoBeam accelerometer with very wide mounting flexibility, designed for accurate measurement frequency events from 0,5 up to 5 000 Hz.

Available in three different ranges for 5, 10 and 50 g, the Kistler Type 8640A(x) incorporates a bimorph piezoceramic sensing element, with internal Piezotron® charge converter matching most current front end systems with constant current line drive capability. Patented methods are used to thermally compensate the sensing element.

Kistler Type 8640A(x) also offers TEDS IEEE1451.4 capability as an option to simplify the daily measurement work. Excellent low noise and low interference offer a very high resolution up to 140 µg.

This single axis accelerometer with cube shape titanium housing is hermetically sealed and allows various mounting technologies, like attaching to the test surface with any available side with wax, adhesive, tape. In addition clip and stud technology are available as the sensor has a 5-40UNC threaded hole.

With its exceptional bandwidth, phase accuracy and shock survivability, the Kistler Type 8640A(x) is ideal for use in SIMO or MIMO modal analysis, in operational modal analysis or seismic monitoring applications.

Recommended accessories for use with Type 8640A(x) include highly flexible shielded cable Type 1768A... for low mass loading and several mounting accessories, like clip (800M156), magnetic (800M160), stud and ground isolated adhesive (800M158) and stud (8400K04) mounting.

For detailed technical specifications, drawings or a quotation please contact us.

A printer friendly version of the text (1 856 characters) and photographs of this press release may be downloaded from our website: www.kistler.com (News & Press Events).

Kistler Group

Kistler's core competence is the development, production and use of sensors for measuring pressure, force, torque and acceleration. Kistler's know-how and electronic systems can be used to prepare measuring signals for use in analyzing physical processes, controlling and optimizing industrial processes, improving product quality in manufacturing and improving performance in sports and rehabilitation.

Kistler offers a comprehensive range of sensors and systems for engine development, automotive engineering, plastics and metal processing, installation technology and biomechanics.

A worldwide sales presence in the form of 25 group companies and 30 distributors ensures customer proximity, application support on an individual level and short lead times.

With a staff of about 1 000, the Kistler Group is one of the world's leading providers of dynamic measuring instrumentation. The Kistler Group achieved turnover of 166 million Swiss Francs in the 2009 financial year.

Kistler Group

Eulachstrasse 22

8408 Winterthur

Switzerland

Tel. +41 52 224 11 11

Fax +41 52 224 14 14

info@kistler.com

More from Software