ID Grinder handles mid-sized parts.
Press Release Summary: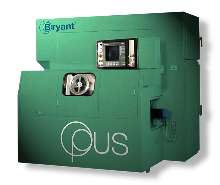 Suited for high-speed grinding, Opus features cast iron bed that resists torsional and bending forces. X-axis and Z-axis slides are independent, each mounted directly to machine bed. Digital servomotors, direct-coupled to precision ballscrews, provide positioning. Grinder machines product bore sizes from 0.40 to 7 in. dia and lengths to 3 in. X-axis travel is 2 in. and Z-axis travel is 10 in. Rapid travel is 600 ipm in X-axis and 1,800 ipm in Z-axis.
---
Original Press Release:

Bryant Grinder Introduces Opus - High Production, High Precision, I.D. Grinder


(Springfield, VT - March 2004) Under new, private ownership, the Bryant Grinder company is launching a new, high production grinder for a broad range of mid-sized parts called Opus. This I.D. grinder is ideal for grinding many components in the automotive industry, such as constant velocity joint components, valve lash adjusters, universal joint cups, transmission components, wheel hubs, AC compressors components, and connecting rods. For the bearing industry, Opus is suitable for grinding ball bearing races, tapered roller bearing tracks, bore and face, seal diameters and groove configurations, precision bushings, self-aligning bearings, and specialty bearings. Other applications include complex shafts, hydraulic pump rings, centering balls, gear bores and faces, hydraulic valve spools, and refrigeration compressor components.

Key specifications include bore sizes from 0.40" to 7" (10mm - 177mm), bore lengths to 3"(75mm), 10" (254mm) Z-axis travel and 2" (50mm) X-axis travel. Digital servomotors direct-coupled to precision ballscrews provide reliable positioning, part after part. Resolution is 0.000002" (0.05 micron) in the X and Z axes. Rapid travel is 600 ipm (15.5m/m) in the X-axis and 1800 ipm (46 m/m) in the Z-axis.

Opus has been designed specifically for high-speed, high-precision grinding from the ground up. Its cast iron bed is a unique tube design that resists torsional and bending forces. Three point leveling support makes this an extremely stable base. A "flow-thru" system circulates oil and coolant through the base rapidly normalizing temperatures throughout the machine for outstanding thermal stability.

The "X" axis and "Z" axis slides of the Opus are independent, each mounted directly to the machine bed. This makes for an extremely low center of gravity in each axis, and minimizes the mass each slide carries. The round bar hydrostatic bearings used in each axis provide an extremely stiff system with virtually no friction. Together these features permit fast and smooth acceleration and deceleration not possible with conventional CNC machines. With the elimination of the "stick slip" associated with other way systems, machine positioning reflects the true resolution capability of the feed system.

Diamond sizing, in-process gaging or post-process gaging can be used to control size on Opus. Diamond sizing is an extremely simple and precise method due to the accuracies inherent in Opus' design. In-process gaging monitors workpieces while they are being processed. Size is measured and cycle modifications are communicated directly to the processor. Post-process gaging inspects the finished ground part and instructs the control when any size correction is necessary for the next part. Automatic taper adjustment is also available.

Bryant offers a host of optional workholding devices and loaders for different applications, for example a magnetic chuck shoe centerless with linear loader, chuck with slot-cam loader, chuck with ball-spline loader, and disk drive fixture with ejector loader. A selection of dressing systems are also available - single point diamond (straight and radius), high frequency rotary cup wheel, diamond roll, and diamond disk with lift-up fixture.

The Bryant cartridge style Hi-Speedpower(TM) spindles are standard equipment on Opus. These world-renowned spindles are cooler, quieter, and provide more consistent power over a wide range of speeds than most other spindles on the market. These spindles employ hybrid ceramic bearings, individually inspected for accuracy beyond the industry's highest standards. Covering the entire speed range from 4,000 to 120,000 rpm, Bryant spindles handle the demands of CBN abrasives superbly.

For more information, contact Bryant Grinder, 802-885-5161, www.bryantgrinder.com.


More from Laboratory and Research Supplies and Equipment