ICs speed cable and satellite set top box development.
Press Release Summary: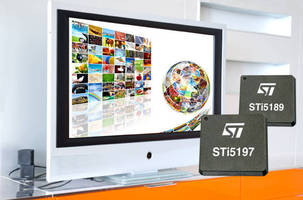 STi5197 for cable STBs includes QAM demodulator while STi5189 for satellite STBs includes a QPSK demodulator; both products have common architecture for MPEG-2 audio/video-decoding and application-processing functions. Common architecture speeds product development and simplifies pc-board design. Each device supports relevant broadcast standards - STi5197 supports DVB-C including ITU-T J83 Annexes A/B/C, and TSMF, while STi5189 supports DVB-S. All industry-standard middleware is supported.
---
Original Press Release:

STMicroelectronics Launches Single-Chip Set-Top Box ICs for Sharper Competitive Edge in Cable and Satellite



STi5197 and STi5189 implement cable or satellite demodulation alongside decoding and processing to deliver higher integration, with USB and Ethernet interfaces supporting added-value functions

Geneva, March 20, 2009 - STMicroelectronics (NYSE: STM), the world's leading supplier of silicon chips for set-top boxes (STBs), has introduced two new single-chip STB ICs that enable manufacturers to increase product performance and implement added-value features using fewer components. The STi5197 for cable STBs and STi5189 for satellite STBs share a common architecture and are software compatible, enabling efficient development and fast time-to-market for products such as basic zappers, interactive and DVR-capable STBs, and hybrid STBs.

The STi5197 includes a QAM (quadrature amplitude modulation) demodulator and the STi5189 includes a QPSK (quadrature phase-shift keying) demodulator, and both products have a common architecture for MPEG-2 audio/video-decoding and application-processing functions. The common architecture saves product development time, lowers bill-of-material costs, and simplifies pc-board design to deliver highly price-competitive products into global markets. Each device supports relevant cable or satellite broadcast standards. The STi5197 supports DVB-C including ITU-T J83 Annexes A/B/C, and TSMF (Transport Stream Multiplex Frame). The STi5189 supports DVB-S for satellite. All industry-standard middleware and browsers are also supported.

Both ICs support all major conditional-access security schemes, with integrated DVB, DES (Data Encryption Standard), Multi2 and ICAM (Integrated Conditional Access Module) descramblers as well as a built-in smart-card interface, which will help to broaden markets for pay-TV services.

"The STi5197 sets a new industry standard for secure, mass-market set-top boxes, reinforcing the outstanding success of the ST's OMEGA family of MPEG2 decoders," said Philippe Lambinet Executive VP of Home Entertainment and Display group. "It will bring further cost reductions for manufacturers while giving viewers the advanced connectivity features they now expect as standard, while respecting low power requirements."

Additional features common to both devices include an interface to off-chip Flash memory, enabling support for a PVR-type time-shift feature without requiring a hard disk drive. The USB interface provided is ideal for general connectivity including implementing DVR-enabled STBs. An Ethernet interface is also integrated enabling manufacturers to build hybrid STBs on the same platform. There is also an integrated audio subsystem providing digital and analog outputs and supporting MP3 and Dolby Digital 5.1 decoding.

Software compatibility between the STi5197 and STi5189 streamlines development of either cable or satellite products. In addition, ST's rich STB-development ecosystem provides common development tools and the fully documented and supported programming interface STAPI, which enables easy porting of software, and therefore promotes code re-use and compliance with industry standards.

Compared to previous-generation STB ICs, the new devices also benefit from higher processing performance as well as sophisticated power management featuring two power-saving modes to help designers meet local energy-efficiency regulations for consumer products.

Both devices are available in a choice of 23 x 23mm plastic BGA (PBGA) or cost-optimized 15 x 15mm low-profile fine-pitch BGA (LFBGA) package.

About STMicroelectronics

STMicroelectronics is a global leader in developing and delivering semiconductor solutions across the spectrum of microelectronics applications. An unrivalled combination of silicon and system expertise, manufacturing strength, Intellectual Property (IP) portfolio and strategic partners positions the Company at the forefront of System-on-Chip (SoC) technology and its products play a key role in enabling today's convergence markets. The Company's shares are traded on the New York Stock Exchange, on Euronext Paris and on the Milan Stock Exchange. In 2008, the Company's net revenues were $9.84 billion. Further information on ST can be found at www.st.com.

STMicroelectronics, Inc.

Lexington Corporate Center

10 Maguire Road

Bldg. 1, 3rd Floor

Lexington, MA 02421

(781) 861 2650

www.st.com

More from Controls & Controllers