iComfort E30 Smart Thermostat features schedule IQ technology™.
Press Release Summary: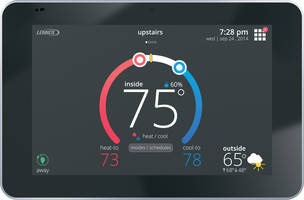 Compatible with Amazon Alexa smart home devices and Lennox iHarmony Zoning System, iComfort E30 Smart Thermostat comes with Feels Like™ temperature feature, ideal temperature settings and warning system. Designed to monitor air quality and pollen levels outside, unit features 7 in. HD color touchscreen with screen savers. Offering energy-saving mode, product allows users to view and control multiple systems or zones.
---
Original Press Release:
Lennox Introduces Versatile iComfort E30 Smart Thermostat, Offering Savings, Comfort and Peace of Mind
Lennox's Newest Thermostat Features Home Automation Compatibility, Location-Based Functionality, Comfort Customization and Real-Time Air Quality Monitoring
Lennox Industries, a leading provider of innovative home comfort solutions, today introduced the Lennox iComfort E30 smart thermostat, which brings versatility and flexibility to home comfort. Building off the innovative and personalized home comfort features most desired by homeowners, the iComfort E30 helps homeowners create their ideal living environment, all while saving energy. At the same time, the iComfort E30 gives homeowners peace of mind, and alerts them to a problem before it happens.
The Lennox iComfort E30 thermostat doesn't just control temperatures like a conventional thermostat, it automatically adapts to individual lifestyles – creating a versatile living environment through industry-leading features:
Compatibility: The Lennox iComfort E30 works with Amazon Alexa smart home devices, which means that homeowners can take advantage of voice controls to operate their thermostat. The iComfort E30 Smart Thermostat also is compatible with any brand of HVAC system, as well as with the Lennox iHarmony Zoning System, which gives homeowners the ability to achieve optimum levels of comfort in up to four zones within a home, saving energy and money by not having to heat or cool unused areas of the home.
Comfort: The iComfort E30's "Perfect Temp" feature, similar to the climate control setting in cars, lets homeowners set the ideal temperature, with the home automatically adjusting heating and cooling to maintain the specified setting. Combined with the Feels Like™ Temperature feature, which takes into account indoor and outdoor temperature and humidity to make a home feel exactly like the homeowner wants it to, homeowners can precisely choose their preferred home comfort setting.
Energy Savings: Using the GPS on your smartphone, the iComfort E30's Smart Away™ Mode can detect when the family is away and automatically set the thermostat to an energy-saving mode and return the home to the desired temperature when a family member starts returning home – adjusting to a household's unique schedules. Combined with Schedule IQ Technology™ the iComfort E30 optimizes smart energy use based on the homeowner's routine.
Peace of Mind: The thermostat's advanced warning system predicts problems before they occur and alerts the homeowner's service company.
Healthy Air: The first-of-its-kind Allergen Defender is a key feature of the iComfort E30, and can result in better indoor air quality by monitoring air quality and pollen levels outside. When high levels of pollutants and allergens are detected, the fan automatically turns on to keep the home's air cleaner.
Lennox iComfort E30 Smart Thermostat
Key Features and Benefits
Alexa-enabled to work with the full array of Amazon smart home devices
Scheduling capabilities to reduce energy use when away
Pollen monitoring based on zip code to improve air quality
Custom ideal temperature settings
Homeowners with multiple systems or zones can view and control from one thermostat
7" HD color touchscreen with screen savers that mimic current weather conditions
"As today's families find their daily routines becoming anything but routine, the versatility of the iComfort E30 delivers flexibility, comfort, savings and peace of mind," said Sweta Hari, energy efficiency expert at Lennox. "Families need products that will adapt with their busy lives, and Lennox is continuing to design versatile products that can help homeowners save money and stay comfortable without having to think about it."
The iComfort E30 is part of the Lennox portfolio of the most advanced and efficient heating and cooling products available on the market. To learn more about the iComfort E30 or to find a local dealer who can install the smart thermostat, consumers can visit www.lennox.com/locate/.
About Lennox Industries
Lennox Industries is a leading provider of customized home heating, cooling and indoor air quality products that are designed to deliver customized comfort, efficiency and functionality, with the most innovative and reliable features available. Lennox has been honored four times by the U.S. Environmental Protection Agency and the Department of Energy as an ENERGY STAR Manufacturing Partner of the Year for its outstanding contribution to developing and promoting energy-efficient products. For more information about Lennox home comfort products, visit http://www.lennox.com, call 1-800-9-LENNOX
Web Site: http://www.lennox.com
More from Thermal & Heating Equipment