Icing Plates clamp parts securely.
Press Release Summary: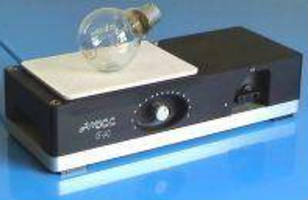 Using power of ice to hold parts for milling, turning, or grinding, GF Series is suited for sintered materials, unfired ceramic, ferrite, and graphite. Mono-block clamping system is rigid, stress-free on parts, and clamps limitless shapes and materials. Since parts are held by only 1 face, plates allow machining access to 5 faces. Plate cooling is achieved by compressed-air heat exchanger, and on some models, assembly is driven by temperature-control pneumatic system.
---
Original Press Release:

AMCC's Icing Plates Clamp Parts Securely with the Power of Ice



Ideal for Sintered Materials, Unfired Ceramic, Ferrite, and Graphite

Chicago, January 27, 2009 (word count: 403)

An ice cube tray stuck in the freezer or frost holding wipers to windshields on winter mornings show the strong adhesive power of ice. AMCC used this concept to develop the GF Series Icing Plates. These plates use the power of ice to hold parts for milling, turning, or grinding. This new clamping system is rigid, stess-free on the part, holds parts on a single face, fast and easy to use, and clamps limitless shapes and materials.

Icing plates are particularly effective for machining: sintered materials, unfired ceramic ("green"), ferrite, graphite, and more (see photo 3). Ice is an excellent adhesive that can grip also any material, rigid (metal, plastic) or flexible (rubber, neoprene, textile). On metals, ice has a tensile strength of 214 lbs./sq. in., compared to magnets (170 lbs./sq.in) or a vacuum (14 lbs./sq. in.). It has the additional advantage, when it melts, of being reversible and leaving no residues.

Using these icing plates removes the need for costly, specific assemblies. No more distortion and breakage due to clamping and/or unclamping. Whatever their shape, fragile parts are held firmly in place and without stress. The parts held by only one face allows machining access to five faces. For plastics, freezing increases its rigidity, and thus improves surface condition.

Plate cooling is achieved by means of a patented compressed-air heat exchanger. On some models, the assembly is driven by a temperature-control pneumatic system. By utilizing the thermal inertia of the icing plate, this control system also conserves compressed air.

Thanks to its compact, mono-block design, GF icing plates are quickly installed. Simply connect the apparatus to the compressed air system, spray water onto the icing plate, and position the part to be machined. Then activate the temperature control button. Within seconds the water freezes and the part is clamped. Unclamping is done just as fast by reversing the freeze/thaw valve.

What's more, Z-axis repeatability depends only on the surface of congelation because there is no water thickness under the part. Because the plate evacuates the calories generated by machining, standard lubrication is no longer necessary.

Originally designed to meet the rigorous demands of the space industry, AMCC's icing plates have since become a necessity in all fiels that manufacture delicate parts including medical (IOLs), electronics (ferrites), watch-making, jewelry, and more. AMCC has several models of GF series icing plates available, according to use, and can customize a solution based on customers' needs.

For more information, please contact:

IC+
614 Fifth Avenue
P.O. Box 637
Coraopolis, PA 15108 USA
USA: 717 602 3593
Contact: james.mcgeary@icplus.biz

AMCC United States Contact
Bruno Boucher
3735 W. Belmont
Chicago, IL 606187
Tel.: (773) 539-8501
Cell: (773) 206-1247

E-mail: bruno@bboucher-inc.com

AMCC Headquarters
Christian Brochin
ZAC de Serres
31410 Capens
FRANCE
Tel.: +33 (0)5 61 87 25 70
Fax: +33 (0)5 61 97 50 12
E-mail: c.brochin@amcc.fr
Web: www.amcc.fr

More from Chemicals & Gases