IC eliminates audio click-and-pop in multimedia devices.
Press Release Summary: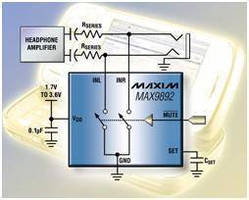 Shunt-mode, audio click-and-pop eliminator MAX9892 is intended for cell phones, portable media players, gaming consoles, notebooks, and other audio applications. It offers 35 dB of audio suppression on power and shutdown cycles by connecting to output of existing amplifier and providing low impedance path to ground during power on and off. Offered in 6-bump UCSP and 6-pin µDFN packages, device consumes 1 µA and operates from 1.7-3.6 V single supply.
---
Original Press Release:

Shunt-Mode, Audio Click-and-Pop Eliminator Saves Space and Cost



o The MAX9892 is a shunt-mode, audio click-and-pop eliminator for portable multimedia devices.

o This device provides a space-saving solution for removing clicks and pops when turning power on and off.

o Available in tiny UCSP(TM) and µDFN packages, the MAX9892 only requires a 0.1µF capacitor to complete the solution.

o The MAX9892 is ideal for cell phones, portable media players and gaming consoles, notebooks, and other audio applications.

SUNNYVALE, CA-January 28, 2009-Maxim Integrated Products (NASDAQ: MXIM) introduces the MAX9892, a shunt-mode, audio click-and-pop eliminator designed for portable multimedia devices. This simple IC provides 35dB of click-and-pop suppression to eliminate the irritating audible artifacts generated during startup and shutdown cycles. Available in tiny UCSP(TM) and µDFN packages, the MAX9892 only requires one 0.1µF capacitor to complete the solution. This low-cost, ultra-compact solution is ideal for cell phones, portable media players and gaming consoles, notebooks, mobile internet devices (MIDs), and other audio applications.

The MAX9892 eliminates click-and-pop noise on power and shutdown cycles by connecting to the output of the existing amplifier and providing a low impedance path to ground during power on and off. This device has two low-impedance analog switches that are open and do not affect to outcome signal during normal operation. These switches are turned on during startup and shutdown to shunt the clicks and pops to ground.

The MAX9892 operates from a 1.7V to 3.6V single supply and consumes an ultra-low, 1µA supply current. Offered in space-saving, 6-bump UCSP (1mm x 1.52mm x 0.6mm) and 6-pin µDFN (2mm x 2mm x 0.75mm) packages, the device is fully specified for operation over the -40°C to +85°C extended temperature range. Prices start at $0.38 (1000-up, FOB USA). An evaluation kit is available to speed designs.

Maxim Integrated Products is a publicly traded company that designs, manufactures, and sells high-performance semiconductor products. The Company reported revenue in excess of $2 billion for fiscal 2008. Maxim was founded over 25 years ago with the mission to deliver innovative analog and mixed-signal engineering solutions that add value to its customers' products. To date, it has developed over 5900 products serving the industrial, communications, consumer, and computing markets. For more information, go to www.maxim-ic.com.

Customer Service: 1-800-998-8800

Related