iBOS® Charger-Splitter™ Reduces Number of Charges Needed
Press Release Summary: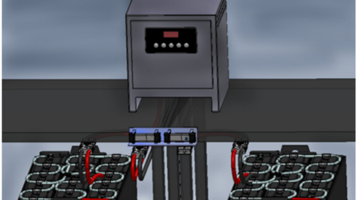 iBOS® Charger-Splitter™ allows user to charge two batteries sequentially using a single charger when integrated with iBOS® battery room management system. The unit is used in mid- to large-sized battery rooms and reduces the cost of charging to the half.
---
Original Press Release:
Philadelphia Scientific to Showcase iBOS® Charger-Splitter™ at MODEX 2018: Half the Chargers, Half the Cost.
Company will also exhibit its full line of Lean Battery Room products at Booth B4046.
MONTGOMERYVILLE, Pa., April 2, 2018 – Philadelphia Scientific, The Lean Battery Room Experts™, will showcase the iBOS® Charger-Splitter at Booth B4046 at MODEX 2018 in Atlanta. When paired with theiBOS® battery room management system, Charger-Splitter enables users to sequentially charge two batteries with one charger, reducing the number of chargers needed by half. With Charger-Splitter, mid- to large-sized battery rooms can realize savings of tens to hundreds of thousands of dollars: Half the chargers, half the cost.
Philadelphia Scientific will also exhibit its full line of Lean Battery Room products including its iBOS battery room management systems; battery watering systems, including the Water Injector Systems™, the industry's most popular single-point watering systems; and SmartBlinky Pro™, the industry's most visible battery watering monitor. Also being featured is the company's newest product, the Water Buffalo Mobile Water Supply, the industry's largest capacity water supply. The 300-gallon mobile water supply is the ideal watering solution for fast and opportunity charging applications.
"Forklift fleet maintenance technology has advanced rapidly in recent years, turning one of the most neglected, inefficient areas of the warehouse into one of the most productive and reliable," said Dan Jones, president of Philadelphia Scientific. "With today's Lean battery room technologies, there's no reason why warehouse and battery room managers can't turn the battery room into a showcase for increased efficiency and profitability."
About Philadelphia Scientific
Since 1983, Montgomeryville, Pa.-based Philadelphia Scientific has brought advanced technology solutions to the industrial battery industry. The company specializes in the research, design, development and manufacture of industrial battery components and tools that maximize battery performance. For more information about Philadelphia Scientific, visit the company's Web site at www.phlsci.com or contact the company at 215-616-0390.
Contact:
David Culver
610-254-7426;