I/O Card uses 200 K gate Xilinx FPGA for all logic.
Press Release Summary: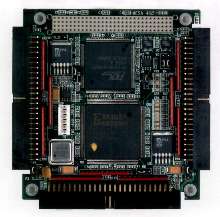 Programmable Model 4I65 PC104-Plus provides 12-axis host-based servo motor controller, 24-channel quadrature counter, 8-axis micro-controller-based servo motor controller, and 4-axis micro-controller-based stepper motor controller with 1/256 micro-stepping. It uses three 50-pin connectors with I/O module rack compatible pin-outs and interleaved grounds. Each connector provides 24 I/O bits for total of 72 programmable I/O bits. All I/O bits are 5 V tolerant and can sink 24 mA.
---
Original Press Release:
New Product Release: 4I65 PC104-PLUS "Anything I/O"

The MESA 4I65 is a general purpose programmable I/O card for the PCI bus. The 4I65 uses a 200K gate Xilinx FPGA for all logic, so it is truly an "Anything I/O" card. The FPGA configuration is downloadable from the PCI bus side, allowing creation of almost any kind of specialized I/O function, even including micro-controllers in the FPGA.

Several pre-made functions are provided, including a 12 axis host based servo motor controller, a 24 channel quadrature counter, an 8 axis micro-controller based servo motor controller (SoftDMC), a 4 axis micro-controller based stepper motor controller with 1/256 micro-stepping, a simple 72 bit parallel I/O port, and a 12 channel, 32 bit timer counter card capable of running at 100 MHz. VHDL source is provided for all functions.

The 4I65 uses three 50 pin connectors with I/O module rack compatible pin-outs and interleaved grounds. Each connector provides 24 I/O bits for a total of 72 programmable I/O bits. All I/O bits are 5V tolerant and can sink 24 mA. Pull-up resistors are provided for all pins so that they may be connected directly to opto-isolators, contacts etc. A 50 Mhz crystal oscillator provides a reference clock which can be multiplied by the FPGAs DLLs for higher clock speeds.

Four layer circuit card construction is used to minimize radiated EMI and provide optimum ground and power integrity. Price of the 4I65 in 100's is $133.

MESA ELECTRONICS

4175 Lakeside Drive, Ste. 100

Richmond, CA 94806-1950

www.mesanet.com - sales@mesanet.com

phone 510.223.9272 - fax 510.223.9585


Related