Hypertherm Introduces New Short Torch for Use in 3D Plasma Cutting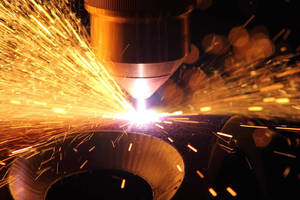 HANOVER, N.H. – Hypertherm, a U.S. based manufacturer of plasma, laser, and waterjet cutting systems, is launching a modified HPRXD® torch developed in cooperation with HGG Profiling Equipment B.V., a global manufacturer of 3D profiling machines with its headquarters in The Netherlands. The torch will made its North American debut later at FABTECH 2014 in Atlanta.



HGG is a supplier of high-end pipe, box, beam and profile cutting equipment but their unique system design was not compatible with a standard-length HPRXD torch assembly. Successful coupling of HGG equipment with Hypertherm's industry leading line of HyPerformance® HPRXD systems required a joint development effort to create a shorter, non-quick disconnect torch assembly capable of proper beveling motion within the HGG 3D cutting chamber.



"In conjunction with HGG, this new, shorter, torch assembly will also open up opportunities for us in the 3D profiling segment that were previously not possible," said Hidde van Hoeven, Business Team leader for Hypertherm's Mechanized Plasma Systems Division. "HGG is recognized as one of the leading companies in this market and we are very pleased that we now have a solution that enables us to once again work commercially together."



Hypertherm is also working with other channel partners who find the shorter torch preferable for a variety of 3D cutting applications. The torch will be widely available as of the beginning of 2015.



Hypertherm designs and manufactures advanced cutting products for use in a variety of industries such as shipbuilding, manufacturing, and automotive repair. Its product line includes plasma, laser and waterjet cutting systems, in addition to CNC motion and height controls, CAM nesting software, and consumables. Hypertherm systems are trusted for performance and reliability that result in increased productivity and profitability for hundreds of thousands of businesses. The New Hampshire based company's reputation for cutting innovation dates back nearly 50 years to 1968, with Hypertherm's invention of water injection plasma cutting. The 100 percent associate owned company, consistently named one of the best places to work in America, has more than 1,300 associates along with operations and partner representation worldwide.

Related