Hygienic RFID Ear Tags are designed for cattle and pigs.
Press Release Summary: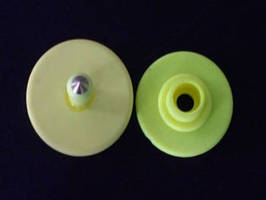 Operating in 125 and 134 kHz frequency, RFID ear tags ensure automated cattle management in processes such as disease management, feeding, breeding practices, and immunity. Tagged cattle's information such as location, vaccination, and health history can be tracked in real-time. Constructed from polyurethane, tags reduce chance of infection while deploying RFID cattle tracking program, and are compatible with chips such as EM4100, Hitag-1/2, and TK4100.
---
Original Press Release:

The Latest RFID Ear Tag for Cattle Management



DAILY RFID has recently unveiled a series of hygienic RFID Ear Tags operating in 125KHz, 134KHz frequency, specially designed for cattle and pigs, with low price at 0.76USD this month. The RFID cattle ear tag ensures fully automated cattle management in processes such as disease management, feeding, breeding practices and immunity.

With the RFID ear tag, the tagged cattle's information such as regarding its feeding, location, vaccination, health history can be tracked in real-time. Thus, using these RFID cattle ear tags, potentially diseased cattles can be located rapidly when disease outbreak.

What's more, constructed from polyurethane, a material of not easy for bacteria to grow on, this RFID ear tag can reduce the chance of infection while deploying the RFID cattle tracking program.

This RFID cattle ear tag is compatible with chips such as EM4100, Hitag-1/2, TK4100, etc. In addtion, these RFID ear tags are also suitable for other animals such as sheep, pigs, etc.

Please visit www.rfid-in-china.com/products_673_1.html for more info on RFID ear tags.

About DAILY RFID CO.,LIMITED

DAILY RFID CO.,LIMITED( www.rfid-in-china.com ), which belongs to PAN Group Co., ltd, is the leading company focusing on the research and development of EPC & RFID technology in China.

DAILY RFID specialize in producing arguably the world's most extensive line of RFID Tag,RFID Label,Smart Card and RFID Reader, which are suitable for any vertical markets, and have obtained the National Integrated Circuit Card Register Certificate,IC Card Manufacture License and ISO9001 Quality Management System Certification.Also, we own a factory covering an area of 26,000 square meters.

DAILY's products are designed and manufactured with recognized industry standards relevant to RFID and its markets but most notably for use in the demanding environments to recognize and understand your business's RFID needs. We are commited to providing "Innovative Technology", " Superior, Cost-efficient Product" and " Professional, Efficient Customer Services".

Company Name: DAILY RFID CO.,LIMITED

Address 1: Rm D13,4/F,Baiyun Commercial Center,NO.131,Jichang Road

City: Guangzhou

Zip: 510403

Country: China

Phone: 86-20-86346357

URL: www.rfid-in-china.com/

Contact Name: Jack Pan

E-mail: daily01@vip.163.com

More from Services