Hydrophilic Porous Plastic suits life science applications.
Press Release Summary: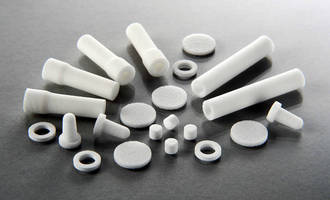 Manufactured using cGMP processes and available in pore sizes from 5–100 micron (mean flow pore), BioVyon™ hydrophilic porous plastic exhibits low extractables, uniform pore size, and stability. Sintered porous plastics provide benefits wherever aqueous solutions are used in filtration, wicking, and fluid transfer. Also, use can reduce number of column condition steps within solid phase extraction sample preparation procedure. Material comes in sheet, roll, cut shapes, or molded form.
---
Original Press Release:

New Hydrophilic Material for Life Science Applications



Porvair Filtration Group, the filtration and separation specialist is set to add an innovative new material to its already extensive range of materials - BioVyon™ hydrophilic porous plastic.



Porvair is already recognised as a world leader in the manufacture of standard porous plastics specifically designed for filtration, separation, purification, diffusion and fluid transfer within the medical industry.



The Wrexham-based R&D lab has extended the range of BioVyon™ materials to include this new hydrophilic material which, like all BioVyon™ materials, exhibits low extractables, uniform pore size and stability for long shelf life.



Manufactured using cGMP processes for the life science industries and available in pore sizes from 5 to 100 micron (mean flow pore), the materials are available in sheet, roll, cut shapes or moulded. Depending on the material specification, the materials have regulatory approvals for FDA, WDA and USP requirements.



Due to manufacturing processes that chemically modify all surfaces within the material, a stable and permanent hydrophilic solution is represented, when compared to materials where traditional surfactants are used.



Its applications are found within the Medical, Pharmaceutical, and Analytical Chemistry Markets.  The BioVyon™ sintered porous plastics are used in applications such as catheter vents, filters in nasal sprays, supports for process chromatography columns used in drug synthesis and sample preparation products for analytical chromatography.



The new material wets-out easily and provides uniform flow, which is ideal for when aqueous solutions are used in processes. Significant benefits have been demonstrated in process chromatography supports and chromatography sample preparation applications. It is anticipated that this material will provide benefits wherever aqueous solutions are used in filtration, wicking and fluid transfer.



In sample preparation for analytical chromatography, the benefits are clear to see; the material is particularly useful in processes when gravity flow is used in laboratories that do not have vacuum or pressure manifolds.



The use of Hydrophilic BioVyon™ can reduce the number of column condition steps within a solid phase extraction sample preparation procedure. These same benefits also apply where column and 96-Well technology is used within diagnostics.



Porvair has supplied the medical industry with performance-driven filtration and separation equipment for over 25 years. It manufactures in both the UK and USA and has an extensive network of sales offices and distribution channels throughout the world.



Roy Rigby, Sales and Marketing Manager, said: "Many of our existing clients tell us that this new Hydrophilic BioVyon™ is a welcome addition to our already extensive range of materials.



"Because of our strong understanding of industry standards, Porvair is seen as a good partner for developing new and existing products which comply with the highest regulatory standards.



"The launch of Hydrophilic BioVyon™ represents another step forward as in our commitment to serve the scientific, medical, pharmaceutical, and R&D sectors."

More from Sensors, Monitors & Transducers