Hydrogen Cyanide Monitor has 0-50.0 ppm range.
Press Release Summary: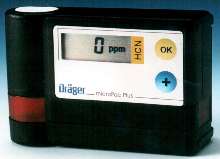 Draeger MicroPac Plus detects and warns of hydrogen cyanide in 0-50.0 ppm range. Instrument features LCD concentration display with audible, visual, and vibrating alarms. Lightweight, low-profile design allows unit to be worn on lapel, shirt pocket, or belt. With RFI protected housing, unit is suited for monitoring worker exposure in chemical, precious metal refining, and metal plating industries.
---
Original Press Release:

Draeger Introduces the New MicroPac Plus Hydrogen Cyanide Monitor


August 18, 2003 - - Pittsburgh, PA - - Draeger Safety, Inc., located in Pittsburgh, PA, introduces The Draeger MicroPac Plus Hydrogen Cyanide Monitor an ultra-compact gas measuring and warning device for hydrogen cyanide in the 0-50.0 parts per million range. This two-year maintenance-free instrument features a fully functional LCD concentration display with audible, visual, and vibrating alarms.

The lightweight, low-profile design allows the MicroPac to be worn on the lapel, shirt pocket, or belt of those who require a warning of the presence of hazardous gas concentrations. The rugged, RFI protected housing guards against the environment and the attention-getting alarms immediately notify the user of a potential gas hazard.

The MicroPac Plus HCN is ideal for monitoring worker exposure in the chemical, precious metal refining, and metal plating industries providing two-years of worry free monitoring without the need for calibration or battery replacement.

Draeger Safety, Incorporated in Pittsburgh, PA is part of the Draegerwerk, AG group of companies servicing the Safety, Medical, Aerospace, Diving and Computer Information Systems markets. Located in Luebeck, Germany, Draegerwerk, AG employs more than 8,500 people worldwide and has production, sales and distribution facilities located in over 100 countries.

Draeger Safety, Incorporated US headquarters and manufacturing facility are located in Pittsburgh, PA and employ approximately 200 people. Established in 1976, Draeger Safety, Inc. is the largest of Draegerwerk AG's subsidiaries worldwide concentrating in the areas of Gas Detection, Respiratory Protection, Diving and Service. Draeger Safety maintains satellite sales offices, in Houston, TX; Durango, CO; Los Angeles, CA; and Mexico City. Wesley J. Kenneweg serves as president and CEO and has been with the Draeger organization since 1983.

Principal Product Lines include:

-Electronic gas detection measuring and monitoring instruments and systems

-Self-contained breathing apparatus

-Disposable, half-mask and full-face mask filters

-Electro-chemical and infrared sensor engineering and manufacturing

-Draeger Tubes and Draeger CMS spot measurement gas & vapor sampling

-Underwater semi-closed circuit rebreathers

-Filter and oxygen generating self-rescuers

-Emergency escape breathing apparatus

-Supplied air respirators and systems

-Breathalyzer Products

More from Electrical Equipment & Systems