Material Handling and Storage Racks
Hydro Engineering Announces Hydropads to Solve Wash Water Capture and Containment Issues
Press Release Summary: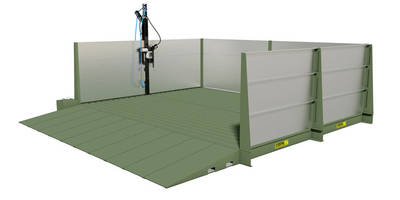 The Hydropads are designed to provide liquid and solids separation, be portable, capture and contain wash water and be EPA compliant. The product features a flip screen, a side gutter drag conveyor and a skid steer drive in clean out tray. 
---
Original Press Release:
Hydro Engineering Inc Introduces New Low Profile Hydropad Portable Wash Rack
Hydro Engineering Inc patented the portable wash rack with side gutters in the early 2000's. Now we offer our Hydropads in a lower ground clearance model that can also be shipped via LTL or container freight.
Low profile Hydropad equipment wash racks solve wash water capture and containment requirements.
 Low profile design for low ground clearance access 
 Hydropad wash racks are portable and set up is fast 
 Capture and contain wash water 
 Provide liquid / solids separation 
 Easy to deploy or re-deploy 
 More durable than concrete
Hydropads are modular, simple to layout and assemble. They bolt together to form an equipment wash rack array tailored to application requirements. As applications grow, wash rack arrays can grow too. Features like all steel construction with a corrugated surface ensures strength and integrity. Corrugated top surface sheds water and debris into channels that connect to side collection gutters. Debris is automatically flushed by high water flow rate in channels to side gutters. Flow channels allow wash water flow under items being cleaned to discharge into side gutter. Work surfaces stay clean and dry quickly to ensure superior footing for operators.
Hydropad methods for removing the solids (dirt and debris), that are accumulate during the washing process.
1. Flip Screen: Designed to capture grass clippings washed from mowers and other turf equipment, the high capacity Flip Screen provides a solids separation solution that is used in a wide variety of applications to collect and separate debris from the wash water. The Flip Screen is attached to side gutter with hinges. It can be rotated when full to deposit dewatered debris next to gutter for removal.
2. Skid Steer Drive In Clean Out Tray: The Drive-in Tray is a simple heavy duty solids settling system. Wash water flows from Hydropad side gutter into Drive-in Tray by gravity. Weirs located in Drive-in Tray quiet fluid flow which promotes solids settling. Clarified wash water is transferred from integral sump tank by a pump. When solids accumulate a skid steer is used to remove them from Drive-in tray. Ideal for operations with a lot of heavy soil loads.
3. Side Gutter Drag Conveyor: The optional drag conveyor is an automatic solids removal system that can be combined with any Hydropad gutter. The conveyor transfers solids in contained wash water to one end of side gutter for disposal into a waste bin. Clarified wash water flows to the opposite end of gutter where it is collected in a sump tank and then discharged by a pump.
Contact This Company Download Spec Sheet
More from Cleaning Products & Equipment