Hydraulic Power System helps reduce machining cycle times.
Press Release Summary: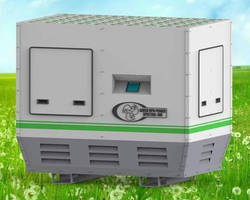 Green Hydraulic Power™ increases yield, reduces noise emissions by 20 dBA, and minimizes heat generation, cycle time, and oil volume for 100, 200, and 300 gal tank Spectra Line hydraulic power units rated to 4,000 psi on MJC machine builds. Solution utilizes Siemens SINAMICS variable-speed servo pump drive, and control data output from onboard diagnostic capability in drive supplies information for predictive maintenance.
---
Original Press Release:

Green Hydraulic Power(TM) Provides up to 70% Energy Savings on Hydraulic Systems



MJC Engineering tailors its Spectra system to the application; employs unique variable speed servo pump drive on standard units in 100, 200 and 300-gallon tank units rated up to 4000 PSI



Huntington Beach, California-based MJC Engineering, a longtime the US leading builder of CNC metal spinning, rotary forge and flow forming machines, today announces the development of a new hydraulic power system, termed Green Hydraulic Power™.  This system provides higher machine yield, reduces noise emissions by 20 dBA, generates less heat, produces a shorter cycle time on various machine types and involves less oil volume, all resulting in a system that saves up to 70% in energy costs to reduce the user's carbon footprint, according to the manufacturer.



Green Hydraulic Power is offered as a value-add on the Spectra Line of hydraulic power units provided on MJC machine builds and utilizes the unique Siemens SINAMICS variable speed servo pump drive.  High-demand hydraulic systems on many machine types significantly improve, as the result of using this concept from MJC Engineering, according to company President Carl Lorentzen.  "We saw that the servo pump could control pressure and flow, as they precisely convert electric energy into hydraulic power.  In some cases, the use of control valves is partially or completely eliminated, depending on the application."



The applications are many for this new system concept, according to Lorentzen, almost all machine tools using hydraulic power, are candidates for variable speed servo pump drive technology....



Complete payback on the system is estimated at 12-24 months and the system has the additional benefit of control data output from an onboard diagnostic capability in the drive that supplies information for a predictive maintenance protocol in an Industry 4.0 scenario.  The basics of pressure, temperature and acceleration data measurement are standard, with additional data outputs on oil level, filter condition, running efficiency and other parameters available.   The servo pump thereby results in as much as a 70% reduction in onsite servicing, according to the manufacturer.



The Spectra Line is offered in 100, 200 and 300-gallon tank units rated up to 4000 PSI and is available in two styles, one with a VFD, asynchronous motor and internal gear pump, while the second has a servo inverter, synchronous servo motor and internal gear pump.



A full review of Green Hydraulic Power is contained in an informative PowerPoint and literature available from MJC Engineering.



For more information, please contact:

MJC ENGINEERING & TECHNOLOGY, INC. 

15401 Assembly Lane

Huntington Beach, CA 92649-1532

Phone:  714-890-0618

www.mjcengineering.com

Attention:  Carl Lorentzen or Carla Cayton

See us on Facebook, LinkedIn and YouTube

More from Electronic Components & Devices