Hydraulic Lift Tables offer hot dip galvanizing option.
Press Release Summary: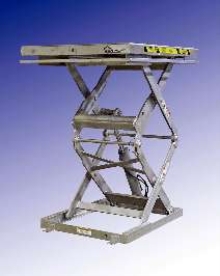 Hot dip galvanizing on Hydraulic Lift Tables provides protective, corrosion-resistant finish to all components, allowing tables to withstand repeated hosedowns and washings with disinfectant solutions without damage. Suited for food processing plants, tables include PentaFlow Hydraulic Cylinders and full-width hinge pins for stability. Top bars installed below perimeter of platform automatically stop downward travel of table if any obstruction is contacted.
---
Original Press Release:

Pentalift Equipment Corporation Introduces Hot Dip Galvanizing Option for its Hydraulic Lift Tables Installed in Food Processing Plants


April 2005 - In order to compensate for the hostile environments found in food processing plants where sanitary requirements dictate frequent "wash downs" of production areas, a new hot dip galvanizing finish of its hydraulic lift tables after finished assembly is announced by Pentalift Equipment Corporation, Buffalo, NY.

According to the manufacturer, the hot dip galvanizing of the completed unit assures a highly-protective, corrosion-resistant finish to all components. The galvanized lift tables will accept repeated hosedowns and washings with disinfectant solutions without damage.

Initial installation of the galvanized tables has been completed at a major ice cream manufacturer, where the tables are used to raise containers of ingredients and flavors to an elevated work station, prior to being poured into a mixing machine. Pictured is a double scissor lift which has a 44" x 50" platform, a 52" vertical lift from a 12" low height, and a 2500 lb. capacity. Other unique features of Pentalift Lift Tables include:
o full-width hinge pins to assure maximum stability;
o top bars installed below the perimeter of the platform to automatically stop downward travel of the table if any obstruction is contacted; and
o Pentalift's exclusive PentaFlow Hydraulic Cylinders, designed to ensure long cylinder life and reduce maintenance.

Additional information on its galvanized lift tables is available from Pentalift Equipment Corporation, P.O. Box 1510, Buffalo NY 14240. Phone: 519-763-3625, Fax: 519-763-2894, E-mail: lifttables@pentalift.com Website: www.pentalift.com

More from Software