Hydraulic Impact Wrenches offer full and adjustable flow.
Press Release Summary: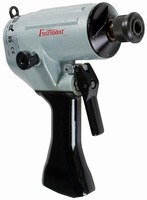 Offering 400 lb-ft torque, Fairmont H8508-1/1V/2/2V turn at up to 6,500 rpm and drill holes through hardened treated wood poles in seconds. Moderate-speed H8508-3/3V offer 280 lb-ft max torque and deliver optimal control. While ½ in. square drive is standard on select models, 7/16 in. hex quick change chuck on others facilitates and accelerates switch from drilling to driving. All models incorporate twin-hammer impact mechanism, Super Spool(TM) selector, and forward/reverse button.
---
Original Press Release:

Fairmont Launches Six New Hydraulic Impact Wrenches



All six offer choices in torque and speed

ROCKFORD, Ill. June 10, 2008 -Fairmont, a Textron Inc. (NYSE: TXT) company and Greenlee brand has launched six new hydraulic impact wrenches that allow end-users to choose between high-torque and moderate torque, full flow and adjustable flow, and 7/16-inch hex quick change and 1/2-inch square drive versions.

"Our hydraulic impact wrenches are the most durable and longest lasting of any wrench on the market," said Ron Axon, senior product manager of Fairmont products. "The 7/16-inch hex quick change feature is key for switching from drilling to driving faster, safer and easier."

All Fairmont impact-wrenches are designed with a twin-hammer impact mechanism that provides high performance and reliability. The Super Spool(TM) selector permits quick switches between an open or closed-center hydraulic system. There's also a button to switch function between forward and reverse rotation, allowing for faster and quicker ease of use. Each Fairmont impact wrench also comes with an ergonomically heat-insulated one-piece handle for better comfort and balance.

The high-torque, high-speed Fairmont H8508-1, H8508-1V, H8508-2, and H8508-2V impact wrenches feature both industry-leading torque and speed capabilities. With an improved casting and trigger guard design, these wrenches turn at up to 6,500 rpm and drill holes through hardened treated wood poles in seconds rather than minutes. These four particular impact wrenches have 400 foot-pound of torque to break free most rusty pole hardware as well as tighten new hardware.

The moderate-torque, moderate-speed H8508-3 and H8508-3V wrenches still have plenty of power to drill holes and tighten hardware, with a maximum of 280 foot-pound of torque. They are also less likely to break pole hardware and drill a little slower for greater control when needed.

The Fairmont H8508-1V, H8508-2V, H8508-3V all come with flow control features that allow the operator to adjust the speed to suit the needs of each specific task. They can be run wide open to drill holes quickly, and then the flow can be reduced to prevent over tightening of pole hardware.

The Fairmont H8508-1, H8508-1V, H8508-3 and H8508-3V are equipped with a 7/16-inch hex quick change chuck for use with all major brands of impact bits as well as Fairmont "Nut Runner" sockets. These wrenches also include the 49314 heavy-duty adapter to adapt the 7/16-inch hex chuck to ½-inch square sockets. The H8508-2 and H8508-2V are equipped with a standard ½-inch square drive.

With Fairmont the choice is really yours. For more information on the new ½-inch hydraulic impact wrenches or other products from Fairmont, a Greenlee brand, call 1-800-435-0786 or visit www.fairmont.textron.com.

Greenlee
Greenlee is known as a global leader in the professional tool category. The Rockford, Illinois-based company develops high quality innovative products distinguished by customer-driven design and differentiated by supply chain excellence. Greenlee also leverages its powerful brands such as Tempo, Fairmont, and Klauke in the electrical, construction and maintenance markets worldwide. More information is available at www.greenlee.com.

Textron
Textron Inc. is a $13.2 billion multi-industry company operating in 34 countries with approximately 44,000 employees. The company leverages its global network of aircraft, defense and intelligence, industrial and finance businesses to provide customers with innovative solutions and services. Textron is known around the world for its powerful brands such as Bell Helicopter, Cessna Aircraft Company, Jacobsen, Kautex, Lycoming, E-Z-GO, Greenlee, Fluid & Power, Textron Systems and Textron Financial Corporation. More information is available at www.textron.com.

More from Transportation Industry Products