Hydraulic Forklift Scales provide overload warnings.
Press Release Summary: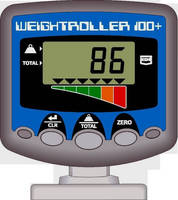 WEIGHTROLLER 100 and 100+ hydraulic scales are accurate to within 2% of machine's lifting capacity. They show current load weight and provide operator with visual and audible warning at approach of overload condition. Percent of full capacity load on forklift is shown on screen numerically and as bar graph. Overload events are stored in devices, which also store sequence of loads with total of all load weights. Products feature IP67 enclosure and install on any make or model forklift.
---
Original Press Release:

Forklift Scale and Overload Warning Device



KEYTROLLER's WEIGHTROLLER 100 and 100+ are hydraulic scales accurate to within 2% of the lifting capacity of the machine. These new scales show current load weight and also provide a forklift operator a visual (flash) and audible (beep) warning at the approach of unsafe overload condition. When the forklift is overloaded, the beep goes solid. This significantly improves load handling safety in yard and warehouse operations where loads frequently approach the full lifting capacity of the forklift.

In addition to allowing the operator to capture a load weight, the operator can see the % of full capacity load that is currently on the forklift. This is shown in a number % and a bar graph for easy viewing. This gives the operator more information on how to handle the current load in corners, up/down ramps and for high stacking. There is an optional LED light bar that can be mounted to eye level.

WEIGHTROLLER 100 and 100+ improve forklift safety by warning operator as he approaches an unsafe overload condition. This allows the operator to "back off" and either lighten the load or get a larger capacity forklift to do the job. The number of overload events are stored in the device for viewing later by a supervisor from the screen. The 100+ model also has an external "thumb switch" to begin a load weighment. It will also store a sequence of loads stored in the memory and show the total of all those load weights.

WEIGHTROLLER 100 and 100+ are hydraulic and can be installed on any make or model forklift of any lifting capacity. They have an IP67 waterproof enclosure so it can be mounted externally in tough weather conditions. If you have problems with overloading of forklifts - WEIGHALERT will give your drivers data to prevent overloads and make them accountable if they do.

Available from better equipment dealers worldwide.

More from Agricultural & Farming Products