Hydraulic Fan Drive improves fuel economy.
Press Release Summary: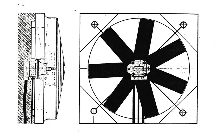 Hydraulically powered fan drive cools engines used in construction, transportation, railroad, power generation, and similar industries. Replacing mechanically coupled fan drive with hydraulic version permits fan to be operated at optimum speed over entire duty cycle, consuming only as much power as is needed to accomplish task. Controller monitors inputs from temperature sensors in cooling loops and adjusts fan speed to keep all systems within limits.
---
Original Press Release:
New Digitally-Controlled Hydraulic Fan Drive Improves Fuel Economy While Reducing Maintenance Cost, Pollution, And Noise Levels

Marysville, Ohio, March 19 - Denison Hydraulics has introduced a new digitally-controlled hydraulically-powered fan drive system intended for heavy-duty engine cooling applications typically found in off-highway construction, on-highway transportation, railroad, power generation, and similar industries.

Based on an advanced digital controller and high-efficiency hydraulic motor technology, the new system offers improved fuel efficiency, more precise thermal control, and improved reliability and maintainability in a broad range of heavy-duty cooling applications.

"Controlling engine coolant temperature is only one of the tasks performed by today's cooling systems," explained Denison electronics and controls manager Gary Gotting.

"We are seeing today that a single multi-path radiator is used to cool engine oil, air conditioning refrigerant, transmission, drive-train, and hydraulic fluids. Also it is used to pre-condition combustion charge air and even control the ambient temperature inside the engine compartment.

"Traditional direct-drive fan systems lack the flexibility and controllability to accomplish all of these tasks efficiently," Gotting added, "because their performance is almost entirely determined by engine speed. But, engine speed and cooling load are not generally well coordinated in these kinds of applications, with the result that a lot of fuel is wasted tuming a fan at much higher speeds than necessary.

"For example," Gotting explained, "if more cooling is required at idle, due perhaps to high ambient temperatures, the only way to obtain it is to increase engine speed. But, running the engine faster only adds to the thermal load on the system while increasing fuel consumption and exhaust gas pollution. At the other end of the spectrum, no fan-induced airflow may be needed when a vehicle is in motion but the direct-drive fan will continue to consume engine power and waste fuel.

Ingenious but wasteful

"A number of ingenious devices have been developed to overcome this basic problem with direct-drive fans," Gotting continued. "One sees a variety of clutching systems used to disconnect the fan blades from the input shaft, or various kinds of temperature-sensitive viscous couplings, but the basic problem still remains. In all of these systems, fan speed ultimately is dependent on engine speed regardless of actual thermal requirements -- and that is inevitably wasteful."

By replacing the traditional mechanically coupled fan drive with the new hydraulic version, the new Denison system permits the fan to be operated at optimum speed over the entire duty cycle, consuming only as much power as is actually needed to accomplish the task. In operation, the electronic controller monitors inputs from temperature sensors in the various cooling loops and intelligently adjusts fan speed as necessary to keep all systems within programmable limits.

The Denison digital controller itself is ruggedized for mounting within the engine compartment or other exposed location on the vehicle. No mechanical adjustments are provided on the controller to prevent unauthorized tampering with pre-set operational parameters in the field.

All programming is accomplished via Windows(TM)-based software running on a PC which is connected to the controller with a Denison OptoLink(TM) interface. The OptoLink communicates with the controller through an infrared LED port, eliminating the standard connectors which are prone to mechanical degradation and corrosion in harsh environments.

The controller accepts up to three simultaneous inputs from standard thermistors or other temperature switch sensors, processes them according to program parameters, and provides output signals to operate the valves that control fan-drive motor speed. The valves required for anti-cavitation and dry motor prevention are all mounted in a compact Denison-designed manifold that is intended to be attached to one of the motor's ports, making the system extremely space-efficient.

The entire controller unit is encapsulated in a flameproof epoxy block. It is engineered to operate in harsh environments and is EMC compliant to EN-12985-2000 (Industrial Truck) and EN-50081-1 and EN-50082-2 (Heavy Industrial) standards. The controller is fully electrically isolated, and protected against damage from l/O shorts, opens, and reverse connections. As well as having intelligent graphing, data logging and operation information via a PC, the controller also has local, built-in diagnostic and status display LEDs which are visible and functional at all times.

"Because fan operation is fully programmable with this system," Gotting explained, "it's possible to build in features like accelerated warm-up during which the fan is not actuated, 'ON-Delays' which remove fan load during hot starts, and even on-demand reverse airflow through the radiator to 'blow out' dirt and debris. Each of these features adds to operational efficiency, and none of them is easily achieved with existing systems."

Locate it anywhere

Making the fan drive independent of the engine provides several advantages in addition to improved operating efficiency. For example, the completely self-contained fan/control system permits the radiator to be located virtually anywhere on the vehicle, opening previously unavailable possibilities for machine ergonomics, body design and maintenance access.

"Even when the radiator is placed in the traditional front of engine location," Gotting pointed out, "the ability to swing the entire self-contained radiator and fan assembly out of the way can greatly simplify engine maintenance by providing unrestricted access to front-mounted components. This capability also simplifies maintenance of the fan system.

"Equally important," Gotting continued, "is that the small size Denison motors and high power density of hydraulic systems means that the fan and drive motor use very little space inside the engine compartment and can easily be mounted right on the radiator shroud to make a completely independent assembly.

"This is a major advantage over electrically-driven fan systems which typically require much more space and/or complicated belt and pulley drives. This major advantage - being able to mechanically isolate the fan drive from the engine - means that radiator movement relative to vehicle chassis is eliminated, allowing the fan to be designed with a very close tolerance fit relative to the shroud interior, greatly improving air handling efficiency while simultaneously removing a very common source of fan blade damage in conventional systems."

In most cases, a Denison hydraulic piston motor can be mounted as a unit in the center of the radiator/shroud assembly, using less space than a conventional direct drive arrangement. All the necessary valving for fan speed, direction and protection are built into the range of manifold blocks designed to compliment the system."

Denison also offers hydraulic fan drives using a vane motor type. The choice is typically dictated by the required cooling capacity. In larger sizes, vane-type motors provide a more compact package and are quieter.

Improvement payoffs

"The first change a user will notice after installing this system," Gotting said, "is an improvement in fuel economy. The power absorbed by a rotating fan is much higher than most people believe, and it is proportional to the cube of the speed. The fact is that a direct-drive fan can consume as much as 27 engine horsepower at 3,000 rpm, yet the level of cooling this represents is required less than five percent of the time in most applications. Until now, though, there has been no practical way to control that power consumption.

"Later on," Gotting continued, "the user will see maintenance advantages from the improved engine access made possible by the independent fan drive, from substantially more precise temperature control in all subsystems, and from the inherent reliability of modern hydraulic and electronic systems. These factors tend to translate directly into enhanced performance and extended sub-system component life, which show up as lower operating costs over time.

"Finally," Gotting concluded, "better fuel economy and more efficient operation directly impact the amount of environmental pollution generated by the equipment on which this system is installed. That, together with better ergonomics for maintenance personnel, and lower operating noise levels, makes this system a very operator-friendly and 'green' alternative that also makes excellent economic sense."

Stand-alone system

"We decided to make a 'Stand-alone' fan control system rather than an integrated one," Gotting said, "as this approach allowed users to retrofit existing direct coupled systems as well as giving the advantage of allowing the vehicle cooling system to be isolated from other vehicle controls for easy maintenance or fault finding."

The method also means that the system can be applied by any make or manufacturer without the need for complicated hard and software interfacing that is needed in situations involving high end vehicle communication systems such as CAN protocol.

One other major advantage of this concept is customer confidentiality and process security. The digital controller is supplied in a safe 'vanilla' configuration and allows each user via easy to use software to customize their individual vehicle cooling profile. This information is confidential to their company and is not needed by Denison or anyone else even in the event of controller diagnostics being carried out.

Other advantages of the Denison digital fan system allow the user to fit the same hydraulic fan system components to a machine that will be shipped to very differing operational areas in the world.

In hotter climates, Gotting said, the cooling profile can be programmed to a different range than the same machine operating in cooler ambient temperatures. This leads directly to minimized parts inventory, easy vehicle build and a solid understanding by technical support staff of what is fitted to any vehicle in the series regardless of the operation location.

Denison Hydraulics is a leading global manufacturer of hydraulic components and systems for off-highway and construction vehicles; for mining equipment; for pulp and paper, chemicals and other processing equipment; for ships and ordnance equipment; and for such in-plant machines as machine tools, plastic molding, die casters and stamping presses.

Fandriveconexpo.doc
March 19, 2002
Contact: Doug Drummond, NES
Gary Gotting, Denison Hydraulics
DFC@denisonhydraulics.com for info

Denison Hydraulics
14249 Industrial Parkway
Marysville, OH 43040
(937) 644-3915

NATIONAL EDITORIAL SERVICES
Public relations and advertising
195 West Nine Mile Road, Suite 207 * Ferndale, MI 48220
248-548-7444. Fax: 248-548-4071
e-mail: nationaled@aol.com

More from Non-Industrial Products