Hydraulic Excavator works in space-restricted areas.
Press Release Summary: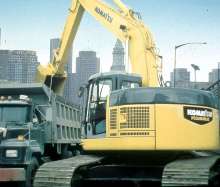 Tight-tail swing excavator, model PC308USLC-3, weighs in at 73,146 lbs and offers 59,180 lbs of drawbar pull and steering force. When equipped with 33.5 in. shoes, 179 hp machine occupies 10 ft 9 in. width, and 17,857 lb counterweight protrudes 1 ft 5 in. past track shoes. Product offers max ISO-rated digging force of 44,530 lbs and arm crowd force to 33,290 lbs. Max digging height is 33 ft 8 in., and max digging depth is 24 ft 9 in.
---
Original Press Release:

Komatsu Introduces The PC308USLC-3 - The Most Powerful Tight-Tail Swing Excavator In Its Product Line


o PC308USLC-3 - conventional excavator performance in a compact machine
o Extreme stability, power and operator comfort highlight new model

Vernon Hills, Ill. - Sept. 26, 2003 - Designed for work on roadways, bridges, in urban areas, or any site where space is limited, Komatsu America Corp. (KAC) has introduced the PC308USLC-3 hydraulic excavator. With an occupied width of 17 ft. 5 in. or less - with a loaded bucket - this excavator is ideal for applications in congested or confined areas. This 179 HP machine sacrifices no power with the shorter tail profile, offering a maximum ISO-rated digging force of 44,530 lb. and an arm crowd force of 33,290 lbs., depending on arm length.

"This product represents the next step in tight tail swing excavators," says Erik Wilde, product manager, Komatsu America. "We're seeing many construction firms, underground utility companies and contractors who work in confined areas using low profile, tight tail swing excavators because they can access restricted places as well as offer high performance. The PC308USLC-3 was designed to meet the needs of customers who needed increased digging power and lifting capacity in a compact machine."

A Strong, Sturdy Machine

The 73,146 lb. PC308USLC-3 offers superior drawbar pull (59,180 lb. maximum) and steering force, critical when operating on a slope and in rough terrain. When equipped with the 33.5 in. shoes, the machine occupies a width of 10 ft. 9 in. and the counterweight only protrudes 1 ft. 5 in. past the track shoes. A large 17,857 lb. counterweight helps provide exceptional lifting capacity and stability.

The short tail swing profile not only allows the machine to work in confined areas, but it reduces the operator's need to constantly check behind him during movement, as would be required with a conventional tail profile. This excavator features a maximum digging height of 33 ft. 8 in. and a maximum digging depth of 24 ft. 9 in. It also offers bucket capacities ranging from .97- to 2.45 yd³.

Industry Leading Excavator Technology

Powered by Komatsu's six-cylinder, SAA6D102E-2 engine, the PC308USLC-3 features the same technology and design that makes Komatsu a tried and trusted manufacturer of hydraulic excavators. The excavator's hydraulic system, with a maximum flow of 119 gallons per minute (gpm), is powered by HydrauMind(TM) - Komatsu's exclusive closed-center design that uses load sensing and pressure compensated valves to match power to operator controls. This never allows the load to determine actuator speed, ensuring that the machine responds to controls as accurately as the operator intends.

The PC308USLC-3 offers three working modes (Economy, Lifting and Breaker) designed to match engine speed, pump speed and system pressure to each application. Active Mode provides maximum power for fast cycle times and increased production. Lifting Mode provides maximum system pressure for excellent lift capacity and smooth, precise operation. Breaker Mode, which allows for optimum engine rpm, hydraulic flow and pressure for attachment usage, also are standard.

Improving the Operator's Environment

Operator controls for the PC308USLC-3 feature Komatsu's easy to use, multi-position, Pressure Proportional Control (PPC) levers. A double-slide mechanism allows the seat and controllers to move together or independently, allowing the operator to tailor the control setup to his or her liking. The fully sealed cab rests on a viscous damping mount system designed to reduce noise and vibration, improving operator comfort. Other cab comfort features include:

o Sliding convex doors for easy machine entry in confined areas - also reducing the risk of the door being damaged as it does not protrude when open

o 12-volt electrical outlet

o Large, comfortable seat

o Cup holder

o Sliding window

o Air conditioning

o Hot and cold box

Komatsu America Corp. (KAC) is the second-largest manufacturer and supplier of construction, mining and utility equipment and parts and services in North America. Visit Komatsu America's website at www.komatsuamerica.com.

More from Software