Hydraulic Breaker offers optimal percussive power.
Press Release Summary: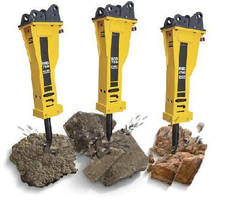 Designed with noise and vibration damping, Model MB 750 guarantees sound power level of 118 dB(A). Extra long retainer bars provide maximum contact surface to tool and lower hammer, and can be used on both sides for extended service life. Breaker is optionally available with DustProtector(TM) II 2-stage wiper system, which minimizes penetration of abrasive dust into breaker.
---
Original Press Release:

The New MB 750 Hydraulic Breaker from Atlas Copco



Reduced lifecycle cost and up to 54% more percussive performance

Two thirds of the lifecycle cost of a breaker is made up by factors as operator cost, energy and fuel consumption, as well as service and maintenance cost.

To reduce the lifecycle cost of machinery and tools is a major market demand these days.

Atlas Copco´s latest addition to the medium breaker range, the MB 750, matches this challenge and furthermore convinces with up to 54 % more percussive performance compared to its predecessors.

More percussive power means that the MB 750 allows allows the use of a smaller breaker and carrier for the same kind of job. In fact, this helps to bring the investment cost to a lower level and to reduce the fuel consumption significantly. Together with increased productivity these are the main contributions to reduced lifecycle cost.

DustProtector TM II

Another new feature on the MB 750: Extra long retainer bars that provide a maximum contact surface to the tool and the lower hammer, and that can be used on both sides for extended service life.

Atlas Copco breakers contain a highly effective noise and vibration damping. The new MB 750 is no exception with its guaranteed sound power level of 118 dB (A) (Directive 2000/14/EC).

The MB 750 is optionally available with DustProtector TM II, a two-stage wiper system that reduces the penetration of abrasive dust into the breaker.

For further information please contact:

o Anja Kaulbach, Marketing Communication / Media Relations

o Tel: +49 (201) 633-2233

o e-mail: anja.kaulbach@de.atlascopco.com

Atlas Copco is a world leading provider of industrial productivity solutions. The products and services range from compressed air and gas equipment, generators, construction and mining equipment, industrial tools and assembly systems, to related aftermarket and rental. In close cooperation with customers and business partners and with more than 136 years of experience, Atlas Copco innovates for superior productivity. Headquartered in Stockholm, Sweden, the Group´s global reach spans more than 160 markets. In 2008, Atlas Copco had 34 000 employees and revenues of BSEK 74, (BEUR 7.7).

Atlas Copco Construction Tools is a division of the Construction and Mining Technique business area. The company is a leading supplier of hydraulic, pneumatic and petrol-driven breakers and drills and of hydraulic breakers and silent demolition tools attached to carrier units. The products are marketed under the brand name Atlas Copco. The equipment is fabricated in Sweden, Germany, India, Bulgaria, China and South Africa and sold via a woldwide operating sales and service organization.

More from Architectural & Civil Engineering Products