Hybrid Ventilation Unit incorporates energy recovery capability.
Press Release Summary: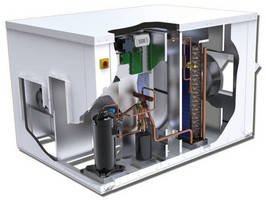 Designed to help meet standards of acceptable levels of indoor air quality (IAQ), Z Series integrates energy recovery wheel into dedicated heat pump system for ventilation and temperature control. Unit can recover more than 80% of exhaust air energy year-round, and energy efficiency ratio (EER) is greater than 17 in cooling mode. In heating mode, coefficient of performance is greater than 10.
---
Original Press Release:

New Hybrid Ventilation Unit Provides Dilution Solution



Memphis, TN - The ASHRAE Position Document on Airborne Infectious Diseases states:

Airborne infectious disease transmission can be reduced using dilution ventilation, specific in-room flow regimens, room pressure differentials, personalized and source capture ventilation, filtration, and UVGI.

The Reznor Z Series hybrid ventilation unit is the next step in the evolution of the ever changing standards of acceptable levels of indoor air quality (IAQ). This unit is the first and only one to integrate an energy recovery wheel into a dedicated heat pump system for precise ventilation and temperature control.

Advanced Energy Recovery Technology - The Z Series can recover more than 80% of the exhaust air energy year-round. In cooling mode the energy efficiency ratio (EER) is greater than 17. In heating mode the coefficient of performance (COP) is greater than 10.

For more information, or to schedule your FREE Lunch-and-Learn presentation, contact your Reznor Sales Engineer by calling 800-695-1901, ext. 1, or go to www.RezSpec.com/Z.62. A link to the complete ASHRAE Position Document is available on this web page.

Reznor HVAC equipment is manufactured by Thomas & Betts Corporation (NYSE: TNB), www.tnb.com.

John A. Garavelli
Reznor/Thomas & Betts
Communications Manager

More from Cleaning Products & Equipment