Hybrid Vehicle Power Generator consumes minimal space, weight.
Press Release Summary: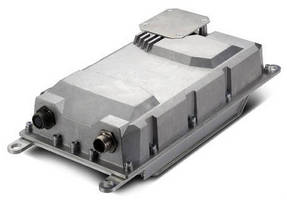 Able to be optimized to meet any heavy-duty vehicle's energy requirements, Power Generation System is comprised of permanent magnet AC generator, generator controller, software, and cables. Modular design accommodates vehicle upgrades and retrofits, without need to replace generator, wiring, or drive electronics. Generator can be air- or liquid-cooled and can be mounted in belt-driven, PTO, or inline configurations. Shielded cables are also standard.
---
Original Press Release:

Experience the Future of Heavy-Duty Hybrid Vehicle Power Generation at HTUF National Conference 2010



Kollmorgen Power Generation System provides flexibility to deliver necessary power at the desired voltage, with modularity to adapt to ever-evolving commercial and military vehicle upgrades

RADFORD, VA - Kollmorgen is unveiling its new Power Generation System at the Hybrid Truck Users Forum (HTUF(TM)) National Conference 2010, on September 28 - 30, in Dearborn, Michigan. The Power Generation System is a complete, robust power platform that can be optimized to meet virtually any heavy-duty vehicle's energy requirements, with the flexibility to fit in applications where space is at a premium. The system is installed on a diesel truck that will be at the conference, enabling HTUF attendees to experience the system in action with live "ride and drive" demonstrations.

"With the Power Generation System, Kollmorgen can provide the power that OEM's want at the voltage they need. And unlike vendors who supply just high or low voltage systems, we are uniquely positioned to serve as a one-stop shop for heavy-duty hybrid vehicle OEM's who have a wide variety of power needs within a single vehicle, and/or across vehicle platforms," says Mike Crowe, Director, Product & Technology Planning, Vehicle Systems, Kollmorgen. "As application demands evolve, commercial and military hybrid vehicle OEMs adjust their designs and need to find the optimum voltage to deliver the desired power, so working with a single supplier who can deliver low or high voltage solutions, or anything in between, is a huge advantage."

Heavy-duty hybrid vehicle designers have neither the time nor the capital to take unnecessary risk on unproven technology. The Kollmorgen Power Generation System is rooted in mature technology backed by more than 60 years of motion control and power generation expertise that is now being implemented in heavy-duty hybrid vehicle applications to supply heavy power demands within a small space.

Consisting of a Kollmorgen permanent magnet AC generator, generator controller, software and cables, the system has the flexibility to support any heavy-duty hybrid vehicle power need at low or high voltage, AC, DC or both. Its modular design readily accommodates vehicle upgrades and retrofits without any need to replace the generator, wiring or drive electronics.

The generator provides twice the power density within the same space as a traditional alternator, can be air- or liquid-cooled, and can be mounted in belt-driven, PTO or inline configurations. The generator controller is rooted in a product platform with more than one million units delivered since 1996. The controller features a robust, modular architecture that is engineered to withstand the most demanding commercial and military environments, and that facilitates easy expansion as vehicle needs evolve. Cables are shielded and optimized for heavy-duty vehicle applications. They consume minimal space and weight, while delivering maximum performance and reliability even in temperatures up to 260°C.

"Conventional hybrid motors and alternators simply aren't engineered to satisfy the strenuous power demands of heavy vehicles. These vehicles require a high-kilowatt system that's small and adaptable enough to fit the vehicle without requiring a lengthy and costly redesign, and that supply the AC and DC voltages the vehicle requires," explains Crowe. "The Kollmorgen Power Generation System is just such a system. Rather than imposing limitations, it opens up a world of new possibilities that makes vehicles more efficient, enables faster upgrades and provides the power needed to get the job done."

Electrical power is an ideal technology partner to the internal combustion engines in heavy-duty hybrid vehicle. It offers outstanding torque, efficiency, economy and cleanliness to supplement fossil fuels on urban buses, agricultural vehicles, military vehicles and other heavy-duty hybrids. Electric power is also an increasingly significant tool for powering auxiliary equipment, from trash compactors on garbage trucks to armored doors on defense vehicles.

About the Hybrid Truck Users Forum
Operated by CALSTART under contract to the U.S. Army, the HTUF conference takes place Sept. 28-30, 2010, in Dearborn, MI. HTUF is the nation's leading program driving production and use of medium and heavy-duty hybrid and high-efficiency trucks and buses. It was founded by CALSTART and the U.S. Army Tank Automotive Research, Development and Engineering Center's National Automotive Center (NAC).

ABOUT KOLLMORGEN
Kollmorgen is a leading provider of power generation and motion systems for OEMs around the globe. Through world-class engineering knowledge, industry-leading quality and deep expertise in linking and integrating standard and custom products. Kollmorgen delivers breakthrough solutions that are unmatched in performance, reliability and ease-of-use, giving vehicle and machine builders an irrefutable marketplace advantage

For more information visit www.kollmorgen.com, email contactus@kollmorgen.com or call 1-540-633-3660.

More from Laboratory and Research Supplies and Equipment