Hybrid Stepper Motors suit positioning applications.
Press Release Summary: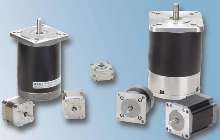 MAE(TM) motors deliver open-loop control in high-performance positioning applications. MAE Y Series, sizes 16, 17, and 22, incorporates AlNiCo magnets; N Series, sizes 34 and 42, utilizes neodymium magnets; and S Series, sizes 22 and 34, offers microstepping capability. All motors feature step resolutions of 1.8º in full-step mode, NEMA frame sizes, and single- or doubled-ended shaft extensions. They range in length from 0.81-9.76 in. and achieve holding torques from 10-3,186 oz-in.
---
Original Press Release:

MAE(TM) Brand Hybrid Stepper Motors Ideal for High-Performance Positioning Applications


All three series of new MAE(TM) brand hybrid stepper motors available from PennEngineering® Motion Technologies (Harleysville, PA) can deliver accurate open loop control for high-performance positioning applications.

MAE "Y Series" motors (Sizes 16, 17, and 22) incorporate AlNiCo magnets and are well-suited for high-speed operation; "N Series" motors (Sizes 34 and 42) utilize neodymium magnets and exhibit excellent torque/rotor inertia characteristics for superior acceleration; and "S Series" motors (Sizes 22 and 34) with neodymium magnets are optimized for maximum torque, as well as microstepping capability for smooth operation and fine positioning.

All MAE hybrid stepper motors feature step resolutions of 1.8º (200 steps per rev) in full-step mode; standard NEMA frame sizes; precision-honed stators and ground rotors for tight air gap and maximum performance; 4, 6, or 8 leads upon request; single- or doubled-ended shaft extensions; and simple, rugged construction for high reliability and long service life.

Depending on type, these motors can range in length from 0.81" to 9.76" and achieve holding torques (bipolar) ranging from 10 oz-in to 3186 oz-in. Value-added customization options include gearboxes, encoders, shaft details, and leadwire-connector assemblies, among others.

Contact John S. Wolfe, PennEngineering Motion Technologies, 343 Godshall Drive, Harleysville, PA 19438-0003. Phone: 877-748-8626 (toll-free in the U.S.) or 215-256-6601; Fax: (215) 256-1338. Web site: www.pennmotion.com

More from Agricultural & Farming Products