Hybrid Air Cushioning System accommodates wide requirements.
Press Release Summary: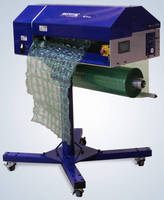 Operating at speeds to 75 fpm, AirSpeed® HC Ultra unit produces inflatable cushioning for void fill, containment, wrapping, and packaging needs. Machine produces 18 in. wide pads from 24 in. rollstock, and air is transferred between multiple air chambers arranged in horizontal and vertical pattern. Typical perforation preset is every 7 in., which can be modified to accommodate specific applications, and cell height is 1¼ in.
---
Original Press Release:

Pregis Intros Airspeed® HC Ultra Hybrid Cushioning System



Deerfield, Ill.-Pregis Corp. has expanded the capabilities of its hybrid cushioning (HC) material with the introduction of a new wider-width format. Pregis' new AirSpeed® HC Ultra unit creates cushioning that is 50% wider than the company's standard AirSpeed HC unit.

Hybrid cushioning differs from traditional void-fill pillows because it features multiple air chambers in a horizontal and vertical pattern vs. one large cell. Flat, perforated rollstock is mounted onto the AirSpeed unit, which creates the rows of small air-filled pockets as the air is transferred between the individual chambers.

The new HC Ultra unit produces 18-inch wide "pads" from 24-inch rollstock. (This compares to 12-inch wide pads from 17-inch roll stock on the standard unit.) The pads feature a larger cell height of 1 ¼-inches. Typical perforation preset is every 7 inches, but can be modified depending on application needs.

"The HC Ultra is ideal for companies who use wider corrugated shippers. Instead of using two pads to line the bottom of the case, the operator can simply tear-off a single, larger one. This will help production line efficiencies and minimize material usage," explains Jim Cochonour, business development manager, Pregis.

Companies will also have the option of using traditional virgin air cushioning material or HC Renew(TM), a high performance, low-density polyethylene film which contains a proprietary organic additive that accelerates microbial biodegradation, without compromising recyclability.

The HC Ultra's profile is only 10-inches wider than the standard HC unit and operates at speeds of 75 feet per minute.

The HC Ultra produces inflatable cushioning for void fill, containment, wrapping and packaging needs. Products of varying shapes and sizes receive optimal protection from shock, abrasion and vibration during transit. Markets include: aerospace, automotive, e-commerce, electronics, glass, cosmetics, fulfillment, housewares, medical/dental, pharmaceutical, industrial components, etc.

About Pregis:
Pregis Corporation is a leading global provider of innovative protective, flexible, and foodservice packaging and hospital supply products. The company offers packaging and
product solutions for a wide variety of consumer and industrial market segments including food and foodservice, healthcare, agriculture, automotive, furniture, electronics, construction, fulfillment, catalog and military/aerospace. The specialty-packaging leader currently operates 47 facilities in 18 countries around the world. For more information visit www.pregis.com.