HWT-121O Touchscreen Monitor comes in 12.1 in. size.
Press Release Summary: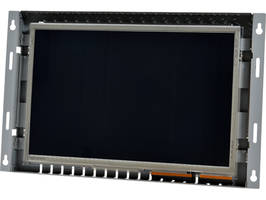 Featuring open-frame construction, HWT-121O Touchscreen Monitor comes with bare-bones design. Equipped with metal LDC panel tray, vents and multi-touch projective capacitive technology, unit comes with resistive touch technologies. Offering optical bonding, product is suitable for self-serve kiosks, banking and aerospace industries applications.
---
Original Press Release:
Latest Caltron Touchscreen Monitor Geared for Bright, Outdoor Uses
HWT-121O can be customized with optical bonding and P-Cap or resistive touch technologies
Caltron Industries continues to refine the visual display capabilities of its line of touchscreen monitors with the introduction of the HWT-121O, designed for extraordinary performance in bright surroundings.
The HWT-121O is an advanced version of the 12.1-inch touchscreen monitor that Caltron has manufactured for years. Because the display remains sharp and clear even in sunlight, Caltron president Jim Wang said he expects the HWT-121O to be popular in outdoor applications, such as self-serve kiosks, and the banking and aerospace industries.
Caltron has built leading-edge display technology into the HWT-121O. In addition to energy-saving brightness enhancement that is superior to CCFL backlighting and sensor software that adjusts screen brightness according to ambient light, Caltron offers optical bonding as an optional upgrade.
Optical bonding is the process by which a specially treated pane of glass is sealed to the LCD display panel. The glass eliminates dust and moisture from accumulating on the panel, and greatly reduces reflected light.
Companion models offer a choice of touch technologies. The HWT-121OR features resistive touch, which responds to the touch of either a bare or gloved finger, or stylus. The HWT-121OC is equipped with multi-touch projective capacitive technology. With P-Cap, the user can manipulate the display with one or several fingers.
While display and touch options make the HWT-121O customizable for a variety of uses, qualities that Caltron engineers into its entire line of touchscreen monitors remain consistent:
All Caltron monitors are open-frame construction. The bare-bones design facilitates quick and easy integration into enclosures of existing systems.
The metal LDC panel tray is a tough 2mm thick and withstands continuous, rough usage.
Vents in the metal chassis provide outstanding heat dissipation and do away with the need for noisy fans.
About Caltron
Caltron Industries is a Silicon Valley-based company that is at the forefront of the revolution in computer display technology. We provide cost-effective solutions for a wide range of industrial clients seeking to replace outdated CRT monitors, or upgrade widescreen monitors with cutting-edge models that better serve their employees or customers.
For more information on the HWT-121O, or to learn more about how the HWT-121O can be customized specifically for your business, talk to a Caltron customer representative. 
Contact:
Jim Wang
Caltron Industries
4120 Clipper Court
Fremont, CA 95438
510-440-1800
Email: jw@caltronind.com
Related