HVAC Systems target light commercial applications.
Press Release Summary: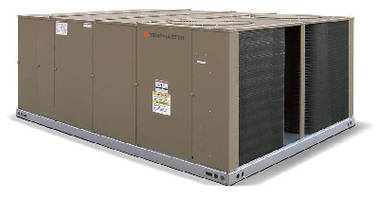 Consisting of packaged heating and cooling units, packaged heat pumps, and split systems, TempMaster® Product Line offers variety of tonnages, fuel sources, configurations, and heating/cooling varieties. Products are rigorously tested and rated in accordance with AHRI Standard 210/240 and 340/360 and meet relevant ASHRAE 90.1, ENERGY STAR, and EPACT 2005 standards.
---
Original Press Release:

Johnson Controls Introduces TempMaster, New HVAC Products for Summer 2015 Cooling Season



Advanced rooftop units and split systems will meet market's need for easy specification and configuration flexibility



MILWAUKEE – Johnson Controls introduces TempMaster®, a new light commercial HVAC product line delivering efficiency and reliability for easy specification during the 2015 cooling season. Manufactured in North America, TempMaster includes a variety of tonnages, fuel sources and configurations, and meets industry standards for efficiency and performance.



"TempMaster gives our local representatives an expanded product line card to offer building owners who have been asking for more options without needing multiple vendors," said Liz Haggerty, vice president and general manager, Unitary Products Group, Johnson Controls. "Building owners now have a single source to meet their HVAC needs this summer."



TempMaster products are rigorously tested and rated in accordance with AHRI Standard 210/240 and 340/360 and meet relevant ASHRAE 90.1, ENERGY STAR and EPACT 2005 standards. Enhanced selection and ordering tools with a consistent user interface makes selection intuitive and an applications support team is available.



"Each unit is designed, built, tested and backed up by industry-leading manufacturing and product development processes," added Haggerty.



For more information and to find a local representative visit tempmasterhvac.com. 



Follow us at @JCI_BEnews



Visit www.johnsoncontrols.com/benews



Johnson Controls

Johnson Controls is a global diversified technology and industrial leader serving customers in more than 150 countries. Our 170,000 employees create quality products, services and solutions to optimize energy and operational efficiencies of buildings; lead-acid automotive batteries and advanced batteries for hybrid and electric vehicles; and interior systems for automobiles. Our commitment to sustainability dates back to our roots in 1885, with the invention of the first electric room thermostat. Through our growth strategies and by increasing market share we are committed to delivering value to shareholders and making our customers successful. In 2015, Corporate Responsibility Magazine recognized Johnson Controls as the #14 company in its annual "100 Best Corporate Citizens" list. For additional information, please visit http://www.johnsoncontrols.com or follow us @johnsoncontrols on Twitter.

Related