HVAC Fabric Air Dispersion System accommodates 6,000 cfm.
Press Release Summary: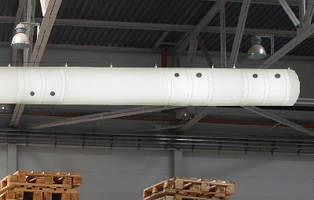 Available in modular lengths of 1.5, 5, and 15 ft, SimpleSox(TM) is made of white polyester-woven, non-porous fabric and comes in 5 diameters of 12, 16, 20, 24, and 28 in. System features 2 ft wide, 4-orifice adjustable air outlet, which can be zippered anywhere into duct run and offers variety of throw distances, volume, and directional capabilities comparable to metal duct/register systems. Flexible and non-corrosive, system will not dent or rust and can be disassembled for laundering.
---
Original Press Release:

DuctSox Introduces SimpleSox: HVAC's First Modular, Field-Adjustable, In-Stock Fabric Air Dispersion System



DuctSox, Dubuque, Iowa, a leading fabric HVAC air dispersion systems manufacturer, now offers SimpleSox(TM) --the HVAC industry's first field-adjustable, modular, configurable and fully-stocked fabric air dispersion system for smaller, non-plan/specification ventilation applications. SimpleSox systems are simple to design, 40 to 80-percent quicker to install and 15 to 50-percent less expensive than conventional metal duct/register systems.

SimpleSox is designed for HVAC contractors and maintenance staffs with simple design-build heating/cooling/ventilating projects. SimpleSox targets retail strip center tenant improvement projects, commercial facility build-outs or floor plan reconfigurations, manufacturing/warehouse industrial plant retrofits, or any other open ceiling architecture application.

The UL-classified SimpleSox consists of round 15, 5 and 1.5-foot modular lengths of white polyester-woven, non-porous fabric ranging in five diameters of 12, 16, 20, 24 and 28-inches that accommodate up to 6,000-cfm per run. The system's unmatched versatility is based on the patented, two-foot-wide Adjustable Air Outlet (AAO), a four-orifice component which can be zippered anywhere into the duct run and offer a variety of throw distances, volume and directional capabilities comparable to metal duct/register systems.

Supplementary components consist of an inlet collar, adjustable flow device (for damper and turbulence control), 90-degree elbow and end cap that are fully stocked and available for next-day delivery from DuctSox's North American manufacturers representative network or online from the company's Dubuque headquarters. Quick delivery makes SimpleSox a fast and reusable air comfort solution to emergency situations and temporary/mobile structures.

Designing a system is simple with the SimpleSox Selection Guide slide chart that recommends the correct amount of AAO's and orifice diameters after inputting the project's cfm. DuctSox also offers customer support, an installation manual, literature and online pricing/sizing guides.

SimpleSox's other features include:

o The Adjustable Air Outlet and elbow have dual zippers for connecting in either direction. The AAO can produce 4 and 8-o'clock directional airflow or 2 and 10-o'clock if reversed.

o One year warranty.

o Non-corrosive and will not rust.

o Easy to disassemble and commercially launder.

o Flexible and will not dent.

o Suspended by easy-to-install steel cable and snaps.

For more information on SimpleSox and DuctSox's total line of fabric air dispersion products, please visit www.ductsox.com and www.simple-sox.com or call 866-DUCTSOX-ext. 6055.

More from Material Handling & Storage