HV/LS Industrial Fan provides consistent air circulation.
Press Release Summary: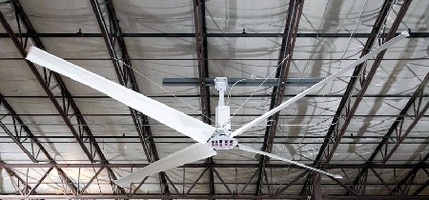 Utilizing 4 contoured anodized aluminum Propell-Aire(TM) blades, Revolution(TM) High-Volume/Low-Speed Fan moves air consistently across whole blade, creating airflow of more than 360,000 cfm. Blades are attached to hub by pivot, which allows them to rise to their working position. Pivot is surrounded by vibration-absorbing resilient material to minimize stress. Available in 12, 16, 20, and 24 ft dia, Revolution Fan uses steel universal mounting brackets for installation.
---
Original Press Release:

Rite-Hite Introduces New High-Volume/Low-Speed Revolution Fan To Move More Air, Drive Down Energy Costs



Milwaukee - January 19, 2007 - Rite-Hite Corporation today introduced the Revolution(TM) Fan - a high-volume/low-speed (HV/LS) industrial fan that provides more consistent air circulation and ventilation with better energy efficiency than traditional high-speed ceiling fans or industrial floor fans. The end result is increased employee comfort and productivity for lower overall cost.

According to Dan Anderson, product manager - Environment Control Solutions, the Revolution Fan's innovative blade design moves more air than traditional fans while saving up to 30 percent in energy costs - equating to a payback in as little as six months. With just four contoured anodized aluminum blades, the Revolution Fan also outperforms other HV/LS fans with six or 10 blades. The unique design moves air more consistently across the whole blade, creating an industry-high airflow of more than 360,000 actual cubic feet per minute.

"The fan creates stronger and more uniform airflow from floor to ceiling and wall to wall, which prevents dead-air holes directly beneath the fan and in building corners," Anderson says. A Revolution Fan costs just pennies per hour to operate - about the same as one small high-speed industrial floor fan - while delivering the performance of multiple high-speed fans.

At the heart of the Revolution Fan's advanced design is the anodized aluminum Propell-Aire(TM) blade that varies in width and pitch angle. The shape is impossible to produce with extruded blades used on other HV/LS fans. Additionally, the blades are attached to the hub by a pivot, which allows the blades to rise to their working position. The pivot itself is surrounded by a vibration-absorbing resilient material that reduces stress by 50 to 75 percent to maximize fan life.

"The blades have the complex contour for optimized efficiency," Anderson explains. "They direct air outward from the fan in a conical shape, extending the height and reach of air movement seven times beyond the diameter of the fan."

The bottom line is that Revolution Fans deliver a host of benefits to decision-makers and employees alike, Anderson says.

"An effective HV/LS fan keeps employees cool and comfortable in summer and winter. Where needed, the steady air movement helps to keep floors and materials drier," he says. "The Revolution Fan simply takes HV/LS fans to a new level because it moves more air with fewer blades and does it more consistently - all with an attractive payback."

Available in 12-, 16-, 20- and 24-foot diameters, the Revolution Fan uses steel universal mounting brackets for easy installation. The mounting system includes a beam clamp, motor housing, stabilization cables and a three-way motor-to-hub safety connection. A robust motor and extruded, precision-milled aluminum hub provide reliable operation with virtually no maintenance.

The fan comes with a one-year Customer Satisfaction Money-Back Guarantee and a 10-year Structural Integrity Warranty. Contact a Rite-Hite representative for a custom Revolution Fan Energy Cost Analysis, or visit www.ritehitefans.com for more information.

For more information on the Revolution Fan or any other products from Rite-Hite Aftermarket, contact your local Rite-Hite representative or the Rite-Hite Corporation, 8900 North Arbon Drive, Milwaukee, WI 53223. Phone: 414/355-2600. Fax: 414/355-4640 or call 1/800-465-0600. Or e-mail info@ritehite.com.

More from Software